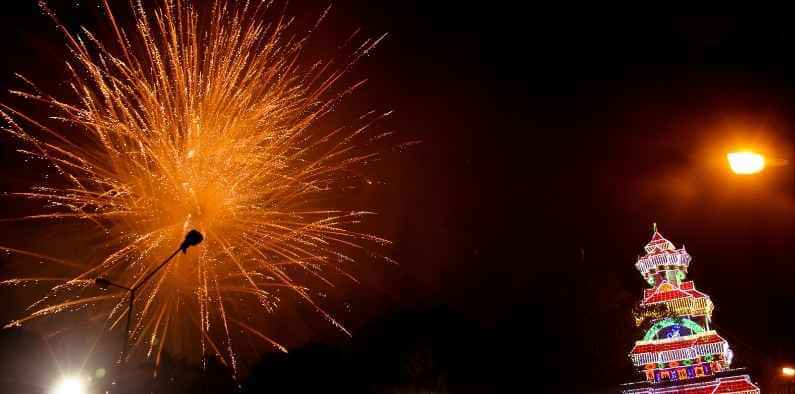 17 Best Restaurants in Thrissur, Kerala
Written by Nisha N Saturday, October 15 2022
Thrissur is an important city in the state of Kerala. In fact, it is the 4th largest city in the state. 
Thrissur was once the capital of cochin during the rule of the King.
Thrissur has rich reserves of places, is the hub of festivals and is a paradise for food.
This is a city with rich culture and heritage; there are some very old temples like Sri Vadakkumnathan Temple.
Thrissur is known for its festive. It is called "the city of Pooram".
The richness of the city is not only found in its architecture and festive but also in its food.
The food that is available here is authentic and rich in traditional flavours. 
A trip to Thrissur is imperfect without eating out.
If you are a non-veg lover, you have plenty of options than vegetarians.
From beef to pork and fish, people in Thrissur love to chuck onto a lavish meal.
And Bharath hotel is there for veg lovers.
Food lovers get ready with me to explore the best restaurants in Thrissur to rejoice in the varieties of food.
Best Veg Restaurants in Thrissur
You have plenty of authentic, traditional veg foods for breakfast, lunch and dinner in the city of Thrissur.
1. Bharat Restaurant Thrissur
A vegan restaurant with 4.1 ratings, located in Chembottil Ln, behind Ragam theatre, very close to vadakunathan temple is one of the best options for vegetarian food.
This is one of the famous and oldest vegetarian restaurants in Thrissur, which serves delicious vegetarian food items.
They provide both South Indian and north Indian dishes which are fresh and hygienic. This restaurant will be busy all the time. People rush into this eatery to enjoy their delicious breakfast, lunch and dinner.
For breakfast, they have a crispy masala dosha with sambar and chutney. A combination of masala dosha, vada and a filter coffee is heavenly. 
This restaurant is famous for its masala dosa. They also have Puri masala with vegetable stew which tastes delicious. The other best-to-go breakfast items are appam and idiyappam.
You can start your day with any of your favourite items along with their delicious filter coffee. This will be the best start for your day.
They have meals for lunch some other items that are available here are Idly, Ghee roast, butter roti, paneer butter masala, gobi Manchurian, chappathi, vada, Pongal, juice etc.
This place is crowded all the time and you have to wait a bit to get a seat. The Staffs are good and they provide good service. The place is maintained neat and hygienic. They have ample car parking.
So Hotel Bharat is a 4.4-star rated veg restaurant with affordable prices.
The only problem with this place is that it is crowded all the time you have to wait to get a table but the wait is all worth it.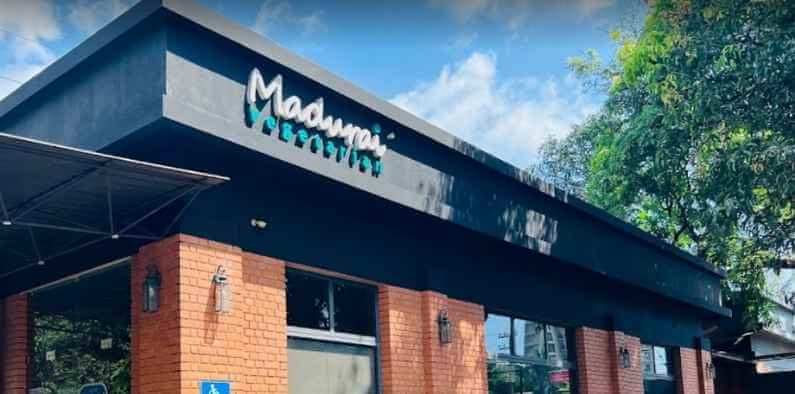 Image Credits: Sajid Rowther Puthuparambil
2. Madurai Vegetarian Thrissur
This is a good vegetarian restaurant at Peringave. This place is usually a bit crowded during lunch. They have a nice ambience and quality manual. 
In this restaurant also they have both South Indian and north Indian food. They have a small unit outside the restaurant called 'Tea Kadai'.
They have all varieties of vegetarian food items. Some of the must-try food items are Kashmiri pulao, Chola battura, mushroom masala, paneer biryani, masala dosha etc.
The philtre coffee of this restaurant is also too good. This restaurant is more than 50 kinds of dishes. The ambience of this place is good and it is a good place to hang out in the evening. 
They also have plenty of space for parking with respect to the seating capacity of the restaurant.
The only thing that I felt to be upgraded is the service provided by them. The staffs have to be a bit more attentive to the guests, other than that everything is good.
Image Credits: Mohammed Safran
3. Pisharody's Restaurant Thrissur
This restaurant is in the heart of the city near the fridge house, kuruppam road.
The restaurant looks traditional and excellent from the outside but the ambience inside is okay it's a bit congested.
They provide authentic flavours and tastes in their food. The traditional ghee dosha is delicious and excellent. You can also enjoy their dosha fest with various kinds of dishes in the mornings.
The Valuvanadan Sadhya in plantain leaf Is the highlight of this restaurant. It is so good with 20 items served on the banana leaf. They offer paladapradhaman along with this sadhya which tastes magical.
The quantity and quality of the food are decent enough. The ambience brings an old-school charm and nostalgic feel with AC alongside the old Malayalam song with a good playlist in the background.
They provide separate dining spaces for families. 
Hygiene is a bit lacking which is to be improved. When you are planning to visit this place make sure you carry cash in hand because they do not accept cards. This is a bit disappointing in this modern era.
If the negatives are taken into consideration and take necessary steps, this will be one of the best restaurants in Thrissur for Sadhya. 
Best Non Veg Restaurants in Thrissur
Non-veg is an emotion for many foodies like you and me. The spicy and yummy fish, chicken, beef, and mutton drive them crazy. Are you one among them? Then here I am with the best non-veg restaurants in Thrissur.
4. Alibaba Restaurant Thrissur
Alibaba and 41 dishes, a Malabari cuisine restaurant which is a famous restaurant chain located in different places like Eranakulam, Thrissur and Munnar.
In Thrissur, it is located just near the Thrissur Round.
They have excellent food with authentic taste and a good ambience. This makes your food enjoyable. As it is a family restaurant, this is a good place to dine in with your family.
This restaurant offers not only Malabar food but also many other cuisines like Indian, Arabic and Chinese. The main and popular dishes from their menu are chicken biriani, Parrotta, mixed chicken kebab plater, chicken lollipop, dragon chicken, fish biryani and beef biriyani.
The Arabic kunafa from Alibaba is quite a popular and must-try dish.
Some other dishes that you should give a try when you visit this place are chicken tandoori and butter naan, Alibaba special chicken fry, mutton ran and Patiala chicken.
They have spacious parking slots. The staff's attitude is good however can be more pleasant. They have many dishes on their menu but you don't get all you wanted.
A good restaurant to chill out with your family at the weekends.
5. Akshaya Restaurant Thrissur
Hotel Akshaya is one of the must-visit non-veg restaurants in Thrissur. Traditional Kerala food is their main attraction. This restaurant is located on a busy street in Thrissur.
The interiors are good and decent. One of the trusted restaurants in Thrissur for a long time. This restaurant works till midnight. They have both veg and non-vegetarian dishes.
Parotta and beef are the huge demanded dish in this restaurant.  Beef roast and beef fry are also excellent. They provide plenty of dishes with fish. The fish curry is really nice and delicious. The meen curry goes well with their hot puttu and kappa.
The ambience of this restaurant is very nice and with service also they do a good job. This is quite a famous restaurant around Thrissur people.
You can see a heavy rush during the peak hours. This restaurant also provides you with different kinds of drinks fresh juices and sodas.
The parking is the only disappointment with the Akshaya restaurant.
 A good restaurant is best to be enjoyed during the evenings.
6. Round The Global Diner Thrissur
This is a lounge, casual restaurant with separate sections for Asian, Indian and cafe cuisine. This is located near daya hospital, Thrissur-Shorter road.
One of the finest restaurants in Thrissur. This is a fully air-conditioned restaurant with a well-cleaned ambience.
 A big restaurant with lots of seating options and parking space. It can accommodate a large group at a time. This restaurant is the branch of copper spoon management.
Round the globe has a beautiful design and interiors, the classiest stand-alone restaurant in Kerala with delicious food.
One of the popular dishes in this restaurant is Prawns biriyani. It tastes yummy… The beef shawarma is a must-try dish. Malabar Mutton biryani is also very good.
In vegetarian menu you have Subz milonis, suji pakkoda, Kerala parotta. All these dishes are flavourful and tasty.
This restaurant is top-class for its ambience, hospitality and parking. They should concentrate more on the quality of the food in future. The Kerala cuisine is really good. The Chinese and Arabic dishes are average.
Seafood Restaurants in Thrissur
Kerala's love for seafood is exotic with mouth-watering varieties of seafood dishes available in every part of the state.
There are various regional variations in the styles of preparation and recipes which has made Kerala a paradise for seafood lovers.
The tempting fish recipes of Kerala like karimeen polichathu, chemmeen roast and stuffed mussels have an ardent fan base among food lovers. Thrissur also serves some mouth-watering seafood.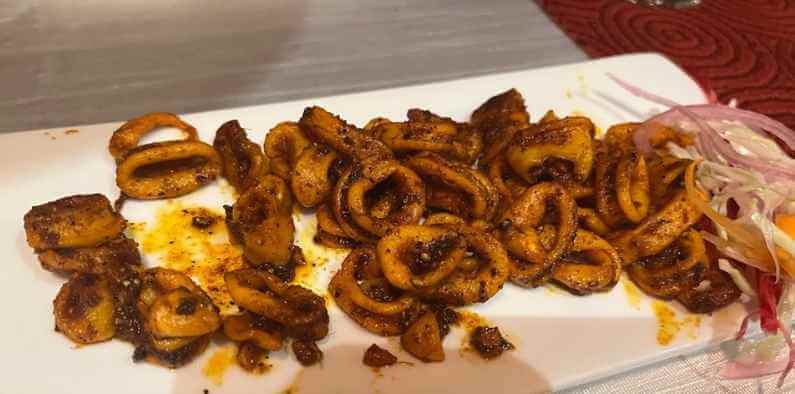 Image Credits: Anup velath
7. Fisherman's Hub Thrissur
This restaurant is a 4.9-star rated restaurant located in Hotel Niya Regency in Chettupuzha, Thrissur.
This is a dining as well as a takeaway restaurant. One of the best seafood restaurants in Thrissur. They have plenty of varieties of seafood dishes. The Fish Items are fabulous and at an affordable rate.
The fish fry and little fish meatballs are so delicious. They serve authentic seafood with lots of fresh varieties.
The varaal puli curry is a must-try dish. The sardine fry with Fish Curry meals tasted homely. The chemeen kizhi, Seafood soup and seafood grilled platter is also must-dry food which has excellent taste and presentation.
Totally a good restaurant with a nice ambience, well-behaved Staff and delicious food. You should taste different dishes of fish from this restaurant.
Special shout out for the prawns Tawa fry and special biryani. The parking is also very good.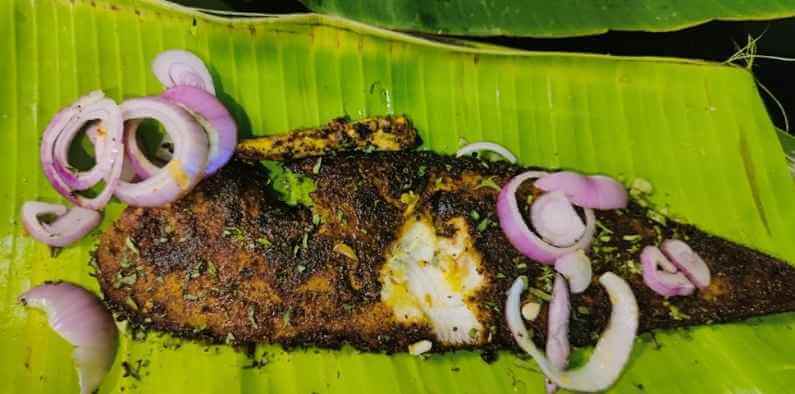 Image Credits: Arshad Assiz
8. Neymeen – Fish Restaurant Thrissur 
A 3.9-rated dine-in fish restaurant located in Porthole, Thrissur. One of the good places today is seafood with some nice refreshments. 
Some of the popular dishes from this restaurant are King fish fry, prawn roast, prawn tawa fry, crab roast, mathi fry. These dishes are delicious and it has the traditional flavours of Kerala.
The fish meals which they serve for the lunch is also good. You can also try grilled fish from this place.
The Staffs are woman and their hospitality's also appreciated. Small restaurant with less parking space. This is kids friendly restaurant.
Overall a good restaurant with different varieties of seafood but the price seems to be overpriced. But that's worth it.
Image Credits: Augustine Simon
This is a 3.7-star rated restaurant just opposite smart residency, marathakkara, Thrissur. 
The highlight of the menus in this restaurant are fish shawarma, squid pepper fry, octopus fry, tilopiafry, fish chattichore and braal grilled fish. Dishes are quite popular and it tastes good.
Fish shawarma is my personal choice. You also have plenty of other varieties of kinds of seafood like Prawn Fried rice, pepper prawn fry, Ayla fry, and fish Fried rice.
The ambience of this restaurant is quite good wisdom you can sit and enjoy your food in their open space seating area which gives a good vibe during the night when all the lights are lit up.
Service from the staff is too good. The Staffs are courteous. The parking space is small and there is not much space for car parking. 
The prices are standard. They accept normal cash or UPI payments but have no card payment facility. Overall the location is a good option to have a quick bite if you travel through this route.
Arabic Restaurants in Thrissur
Arab cuisine is the cuisine of the Arabs. Their cuisine is just yummy, and provide unique food the spices added are also something different.
You have some good restaurants out there in the city with special Arabic foods.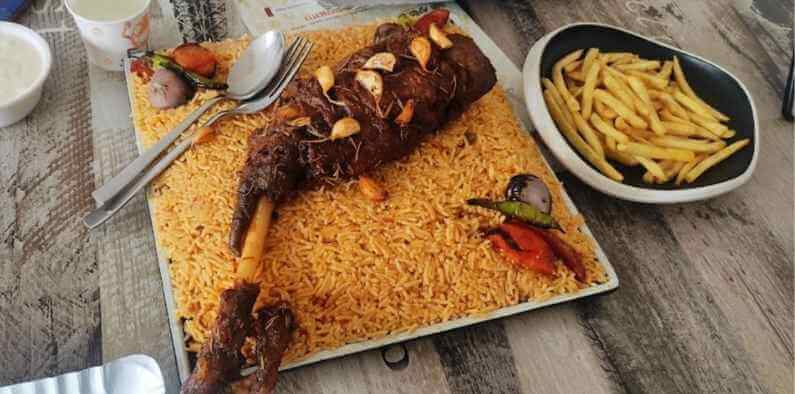 10. Alibaba & 41 Dishes Bab Arabia
This is a 4.0-rated family restaurant located in Kuttanellur, Thrissur.  This is the dining restaurant and you can also place an order on swiggy.
The most famous dish of this restaurant is the Arabian Kunafa, which is very delicious. They also have popular dishes like mandi, Kapama chicken, and Alfaham. The menu has various other Arabian dishes also.
Chicken lollipops, smoked chicken,  kabama and Buffalo Tikka are some other good dishes.
The restaurant is very spacious and they have also kept it very clean. Their service was excellent. The restaurant has ample parking space. The ambience is calm but the rates of the food are comparatively high than others.
Ali Baba and 41 dishes he said good try when on the Thrissur route. Their Arabian mixed platter and the chicken fatayer are just amazing. The quantity and the quality of the food are good.
Image Credits: Nikhil Das
11. Nahdi Kuzhimandhi Thrissur 
This is 4.3 rated middle eastern restaurant with a dine-in option at veliyannur, Thrissur. You can place your orders through swiggy also.
Nahdi kuzhimandi is One of the best mandhi spots in Thrissur, located near the railway station and KSRTC bus stand.
At any time of the day when you visit this place, you will get fresh steaming hot Monday so that it feels so good where other restaurants will reheat the food and serve you but here they serve it fresh because they prepare it every 3-4hrs because of the huge rush of people.
They have varieties of alfhahm like peri peri, honey glazed, and green pepper other than mandhi. The beef mandi is a must-try dish from this restaurant.  It tastes extremely good. The mayonnaise provided in this place is thicker in consistency when compared to others. Such a good one.
The dining facility is spacious and the ambience is good.  
For parking 2 wheelers it is easy but for cars, it can be a slight problem. You can expect a rush at noon times. 
The quality and quality of the food is excellent and it is affordable too.
North Indian Restaurants in Thrissur
North Indian cuisine is a collective cuisine of various parts of northern India.
This cousin has a strong Central Asian influence. You can enjoy the cuisine from our town Thrissur from these restaurants. 
Image Credits: Pradeep Balakrishnan
12. Shree Ramdev Bhojnalaya Thrissur
This north Indian restaurant is in M.G.Road, poothole, Thrissur.  It opens at 9.30 am and closes at 10.55 pm. This is one of the best North Indian restaurants in Thrissur. 
This restaurant is on the 1st floor of the building, just 100m away from ksrtc entrance. Good north Indian flavours and taste in their dishes.
The lunch is unlimited. This is a vegetarian restaurant. The famous dish of this restaurant is North Indian thali, an unlimited meal pack. The subjis and the lassi are also good to taste.
The food is authentic but you cannot expect a great ambience here. It is big and shady. This place is best for bachelors to have unlimited food at an affordable rate.
Image Credits: Dr Bharathi Nair
13. Bikash Babu Sweets and Chats
The one and only place for you to enjoy authentic North Indian chaat. They have an extensive collection of sweets. There is a huge fan base for their mango lassi.
This restaurant is a bit costly but the quality of the food is good. A cosy place to enjoy delicious snacks. Food has to order at the counter later they will bring it to your table.
They have fantastic Dahi Puri. The cheese pav baji is so delicious and a must-try for cheese lovers. Punjabi Lassi is sweet and refreshing. 
The chaats available here are close to the real ones. Parathas and sabjis are good. The sweets are so delicious and yummy.
 The ambience is good but their staffs are not welcoming or courteous.
They have enough parking spaces.
Rromantic Restaurants in Thrissur
This kind of restaurant best suits for couples. They can have an amazing experience along with tasty food.
14. Corniche Resto Thrissur
This place is located nearby PC Thomas coaching centre's main office entrance and it is also accessible from the railway station.
Located on the 1st floor of the building and it has a good vibe with pleasant music. You can look into the streets from your seats.
The concept of the restaurant is nice, food taste is also good. They provide birthdays, anniversaries, and party arrangements. Worth for money is also at an affordable price compared to others. 
The staffs are very cooperative and friendly. They provide wonderful decorations. The best option for candlelight dinner.
Chicken jumbo, burger and beef steaks taste good. Their pizza barbecue and chilli varieties are incredible. Chicken lasagna is one of their best dishes.
Corniche has lots of options on the menu. The parking is the only drawback of this restaurant.
Image Credits: Jerin Johnson
This restaurant is located at RC Bishop  House rd, East Fort, keerankolangara, Thrissur.  This is a very easily accessible location situated near the main road.
They have really spacious interiors and the major plus of this restaurant is its wonderful ambience with the contemporary look, aesthetic utensils, glasses and plates. This is a pretty good place to go for a date or with friends with deep pockets.
The prices are already steep and the parking space may be difficult during peak hours.
You can find varieties of options in this restaurant. The pasta and the milkshake are delicious. They have the best brownies in town. The cauliflower tacos and peanut butter shake are good to try options.
It is known for its ambience and its delicious brownie. A good place to visit and the only concern is the price.
The best place to hangout and chill with your friends and colleagues.
Image Credits: Cipin Valsan
This is one of the best coffee shops in Thrissur with a 4.6-star rate located near vadakke stand, Thrissur.
This coffee shop is a wonderful place with a delightful ambience and a wonderful menu. You can stop here for a quick bite to eat.
The staffs are so welcoming and they will give you an overview of the options with so many options to choose from.
The pastries and sandwiches are very delicious and it fills both your stomach and soul.
The best place in Thrissur to hang out with friends or family. They have a very peaceful ambience and then amazing interior work.
Their cakes are phenomenal. Their kinds of pasta with sliced Italian bread are so delicious.
Elegant and quality food and service, goodnight most welcome good customer service but a bit cosy with the price.
It is a must-visit place for those who looking for quality food and premium ambience in Thrissur.
Image Credits: Travel On Roads
17. Shakespeare Cafe Thrissur
This is an article located in Nellissery arcade, paravattani, Thrissur.
This place has a great ambience and it is a lovely place to sit and relax.
It is very comfortable and entertaining. The vibe is unique with calmness.
This restaurant is the best place to hang out with friends and family.
The staff were also very friendly. They have burgers, chicken Nuggets, milkshakes, steaks, and Belgian blast drinks.
This restaurant has a very beautiful infrastructure, includes stage programmes and they have a library too.
The food is served with love and tasteful stuff is a bit more costly than in other cafes. Best place to chill.
Food is an art.
Food is an emotion.
Food can change the mind of a person in a matter of seconds.
It can make people's emotions change just like art does.
Food can provoke emotions within us like comfort, delight and nostalgia.
So enjoy your food from the best restaurants in Thrissur.
Create happiness in your life. 
Read other blogs in Thrissur.