Best 7 Flavourful Restaurants in Guruvayoor
Written by Akhila C Peter Wednesday, September 14 2022
Are you planning to visit Guruvayoor? If so, you may be wondering which restaurants to try.
In this blog, we'll look at some of the best non and veg restaurants in Guruvayoor and explain why they're worth a visit.
Guruvayoor is a pilgrimage town in Thrissur,Kerala. It's known for its centuries-old, red-roofed Guruvayur Temple.
An excellent place for those who appreciate tranquility. It's a town with a lot of history and is a significant tourist destination.
If you're looking to get away from your busy life and spend some time in a holy place, Guruvayoor is worth a visit.
If you are a food lover, it doesn't matter if you are a vegetarian or non-vegetarian. There are plenty of veg and non-veg restaurants to explore.
So why wait?
Check out the list of restaurants in Guruvayoor and find the perfect one for you.
Best 7 Restaurants in Guruvayoor
Image Credits: Abilash KS
1. Big Bun Theory Guruvayoor
At Big Bun Theory, you can expect well-cooked Italian cuisine.
This spot is an excellent option for good burgers, pasta, pizza and club sandwiches.
Furthermore, the friendly staff and excellent service are worth mentioning.
The decor is also something to note – it's fancy and creates a relaxing ambience.
As for parking, you can usually find a spot right in front of the store to park 2 or 3 cars.
Although the food is excellent and the service is great. The prices are a little high, but that's the only drawback.
But overall, it's a perfect spot for a nice meal. Lastly, the food comes out reasonably, considering everything is made fresh to order.
If you're in Thrissur, you can explore Big Bun Theory in Thrissur.
Google users gave Big Bun Theory a score of 4.3 out of 5. Service options: Dine-in, Takeaway, No-contact delivery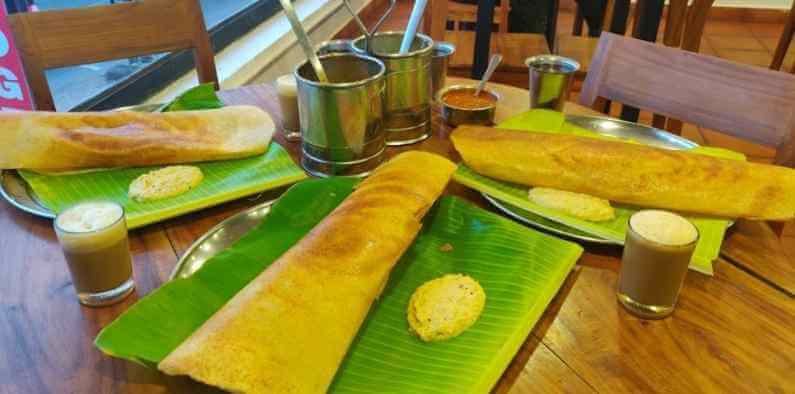 Image Credits: Hotel New Bharathi
2. Hotel New Bharathi Guruvayur
Veg Lovers…
Here its your veg restaurants in guruvayoor 😀
New Bharathi is famous for its delicious dosa items in guruvayoor.
It's always a pleasure to go there and try something new from their limited menu.
The best items on their menu are the masala dosa, ghee roast, plain dosa, tea, coffee, and vada.
It is the best place to take your kids and family for a meal.
The hygiene and taste are far better than other star-rated restaurants in the area.
They open for only a few hours in the morning and evening, so plan your visit accordingly.
Out of all the people who use Google, the average score they gave to Hotel New Bharathi was 4.2 out of 5.
Service options: Dine-in, Takeaway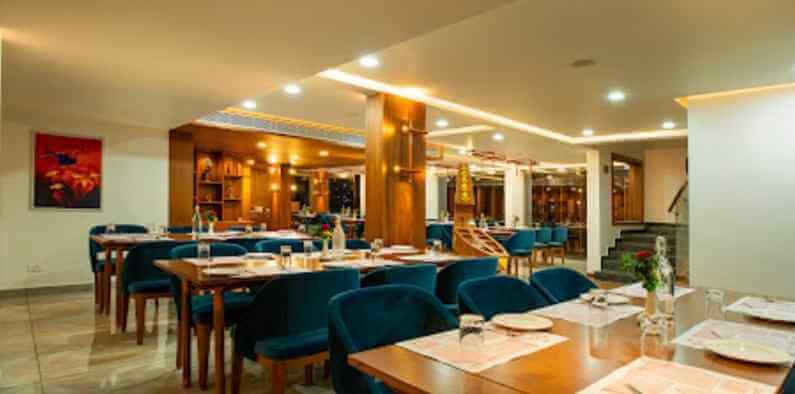 Image Credits: Nivedya Pure Vegetarian Restaurant
3. Nivedya Pure Vegetarian Restaurant, Guruvayoor
Nivedya Pure Vegetarian Restaurant is a great place to enjoy some delicious and traditional vegetarian food.
The experience is fantastic, especially if you're with family.
The food is not only tasty but served with high-quality service.
I loved it and would recommend others to try it out for themselves.
It's also within walking distance to the Guruvayoor temple, which is a bonus.
But most importantly, the traditional food like puttu and kadala was delicious.
There were plenty of different options, making it one of the best vegetarian restaurants in Guruvayoor.
You would love to come back again!
Google users awarded a score of 4.6/5 to Nivedya Pure Vegetarian Restaurant.
Popularity, Quality, and Value were all rated highly by users.
Service options: Dine-in, Kerbside pickup, No-contact delivery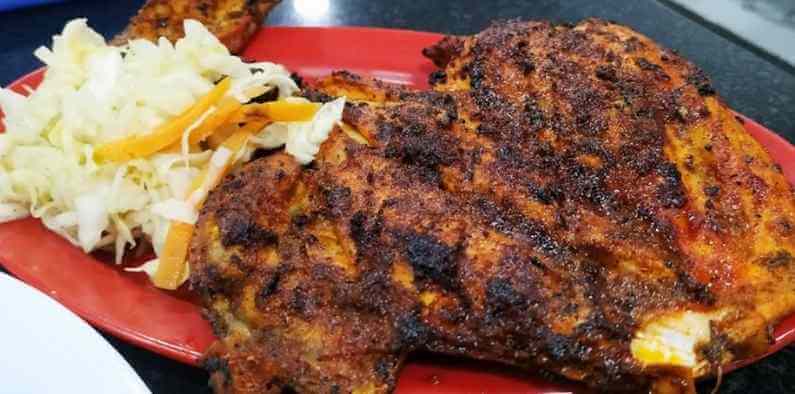 Image Credits: NIHAD SHAREEF
4. National Paradise Guruvayoor
National Paradise Family Restaurant is the perfect place to go if you're looking for unique and flavorsome food that will be delivered right to your doorstep.
They are one of the best non-veg restaurants in Guruvayur and offer a wide variety of dishes such as shawarma, grilled chicken, and biryani.
Fried rice is a must-try item. One of the things that makes this restaurant so great is its excellent delivery service, which makes it convenient for its customers.
In addition, the staff is always friendly and welcoming, providing terrific service throughout the year.
Although the atmosphere is dull, National Paradise Guruvayoor is worth checking out! Google users rated National Paradise 3.8 out of 5.
Service options: Dine-in, Takeaway, No-contact delivery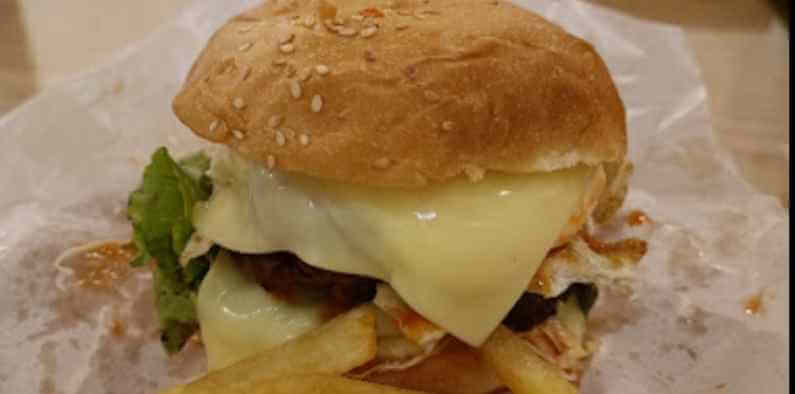 Image Credits: Sreekanth Sreenivasan
Burger Hub Guruvayoor is a great place to get a delicious burger.
The patties always cook well, and the burgers are juicy and flavorful.
They have a great selection of burgers, including vegetarian options.
Burger Hub Guruvayoor is a restaurant that will make your burger cravings a reality.
The interior is stylish, with beautiful woodwork and well-designed decor.
The team consistently plays excellent music, which creates a positive mood.
A parking facility is also available.
Google users enjoyed their experience at Burger Hub, giving it a 4.1/5 rating.
Once you visit, you'll fall in love with the burgers' location and taste.
Service options: Dine-in, Takeaway, No-contact delivery
Image Credits: Rajeesh R Pillai
6. KTDC Nandanam Restaurant
KTDC Nandanam is a great place to have a meal if you're in the area and are looking for something tasty to fill you up.
They have all the standard Indian fare, chapatis, and vegetarian curries.
The food is hygienic and reasonably priced.
The staff are quick and polite, and the restaurant's overall ambience is pleasant and relaxing.
You can't go wrong with any of their dishes, and they accept all primary forms of payment.
The only downside is that they don't have a wide variety of food choices, but what they do have is mouth-wateringly delicious.
There's also ample parking available near the restaurant.
Google users who have been to KTDC Nandanam rated the experience an average of 3.9 out of 5.
Service options: Dine-in, Kerbside pickup
Image Credits: Gopal Othayoth
Krishna Inn is a popular spot in Guruvayur, situated next to the Guruvayur Temple.
You'll find plenty of beautiful works of art throughout the inn, and it's a short walk to the temple.
The Krishna inn's decoration options are appropriate for the setting, and they have an excellent hall perfect for events like weddings.
The restaurant inside Krishna Inn serves delicious vegetarian food, and the service is good.
The staff are polite, and there's plenty of parking available.
The guests have plenty of parking available, and our entrance is wheelchair accessible.
Overall, it's an excellent spot, and all payment types are accepted.
Google users thought highly of Krishna Inn, awarding it a 4.1/5 score.
This popular spot is known for its delicious food and attentive service.
Service options: Dine-in
After dining at some of the great restaurants in Guruvayoor, there are plenty of other unique places to explore!
Guruvayoor is home to many beautiful temples, parks, and other tourist attractions.
So whether you're looking for some quiet time to reflect or want to explore all this holy city has to offer, there's something for everyone here.
One popular spot is Elephant Camp Sanctuary (Punnathurkotta).
Just a short 3 km from Guruvayur temple, the Sanctuary is one of the most fun Guruvayur tourist places.
A brilliant place to visit for people of all ages, the complex houses over 60 majestic Asian elephants roaming around casually in the lush green surroundings and deep forests of Guruvayur.
Guruvayoor temple is the main attraction that brings people to the town of Guruvayoor.
The Guruvayur Temple is a holy place for Hindus who worship Lord Guruvayurappan, the four-armed form of Lord Vishnu.
The temple is known as Bhuloka Vaikunta (Holy Abode of Vishnu on Earth).
The Mahaprabhu statue vividly portrays Lord Krishna as a colossal banyan tree.
Two attractions that draw visitors to Guruvayoor are this and the statue of Guruvayur Kesavan.
The statue of Guruvayur Kesavan honours the late Elephant King, one of the most famous elephants in the Lord's stables, who was multiple times crowned Gajaraja throughout its lifetime.
If you're looking for a great traditional tourist destination, Guruvayoor is the place for you.
There are plenty of delicious restaurants in Guruvayoor that will satisfy your hunger.
Make sure to follow mykeralafood for more restaurant reviews and to stay up-to-date on the latest food trends.