7 Best Restaurants in Oachira – Dining Out – Here is Always Fun!!
Written by Anjana Sunday, December 11 2022
Oachira is a serene and famous sacred place located in the state of Kerala.
It is situated on the border of the Kollam and Alappuzha districts and is close to NH66.
The "Panthrandu Vilakku" festival is celebrated at Oachira Parabrahma Temple. 
No matter what tourist place we go to, we first look for where to get the best food there.
Oachira is one of the best places in that regard; we can get all kinds of food.
Below are some of the most popular and best restaurants in Oachira where you can get all this. 
Best Non-Veg Restaurants in Kerala
No matter where we go, we have no choice but to leave non-veg. Below are the best Oachira restaurants where you can get non-veg dishes.
Which is located near parabrahma temple. Salkara Dum Biryani restaurant is situated in the heart of the town area.
Here the biryani is prepared with quality ingredients. The place is small but kept neat and clean.
The service is fast and Friendly staff. It has a small parking area in front of the restaurant. 
Special Food list 
Main Food list 
Chicken Biryani 

Beef Biryani
Image Credits: AL Rayaan Arabian Mandhi
2. AL Rayaan Arabian Mandhi 
The correct location is in valiyakulangara Pallimukku. It is one of the best mandi-serving places in Oachira. It has an amiable atmosphere and delicious food.
The Staff's attitude was amiable. It has a huge space for parking in front of the restaurant.
Special Food List 
Special Beef Mandhi 

Alfahm Mandhi 
Main Food List 
Kuzhi Mandhi 

Chicken Mandhi 

Beef Mandhi
Best Veg Restaurants in Oachira
No matter what tourist place we go to, it is straightforward to find a non-veg restaurant, but it isn't easy to find a vegetarian restaurant.
But Aaryaas and Arya Bhavan are the two best vegetarian restaurants in Oachira.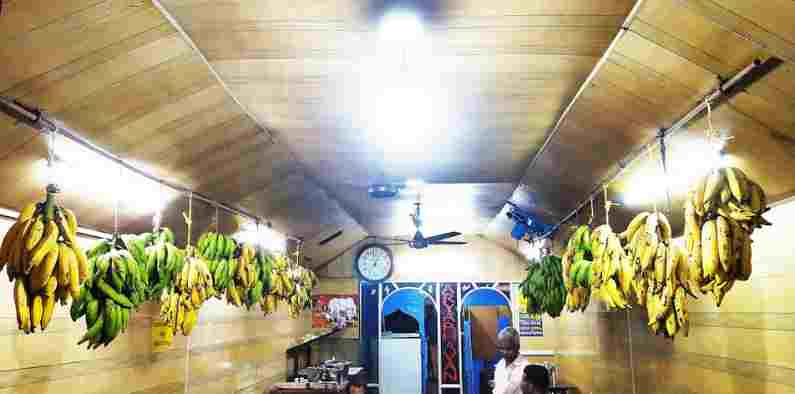 Image Credits: G Hari Krishna
Which is situated on oachira road opposite Temple jun. 
This is a Pure veg hotel with tasty south Indian delicacies. You will get delicious masala dosa and vada here.
Other snacks and veg meals are also available here. 
Special Food List 
Masala Dosa 

Sambar Vada 

Dosa 

Tomato uthappam

Unniappam 
Main Food List 
Onion Uthappam

Puttu 

Noodles 

Paneer masala 

Sweet kuzhakatta 

Chappathi 
Image Credits: Aaryaas Hotel
As it's near Oachira Temple, so obvious one will go for veg breakfast and lunch.
South Indian breakfast is always a highlight of Aaryaas Hotel, and without a doubt, this restaurant as well as keeping that legacy.
Good food and great taste are available at a nominal price. 
Special food list 
Masala dosa 

Poori set 

Onion dosa

Gopi Manchurian 

Chilly parotta 

Spl. Ghee roast 

Spl. Masala dosa 

Spl. meals 
Main food list 
Chamba rice 

Noodles 

Onion uthappam 

Appam 

Fried rice 

Biriyani
Best Seafood Restaurant in Oachira
Whenever we go on a trip, seafood lovers are an indispensable element in that group. For them, the best seafood restaurant in Oachira is given below: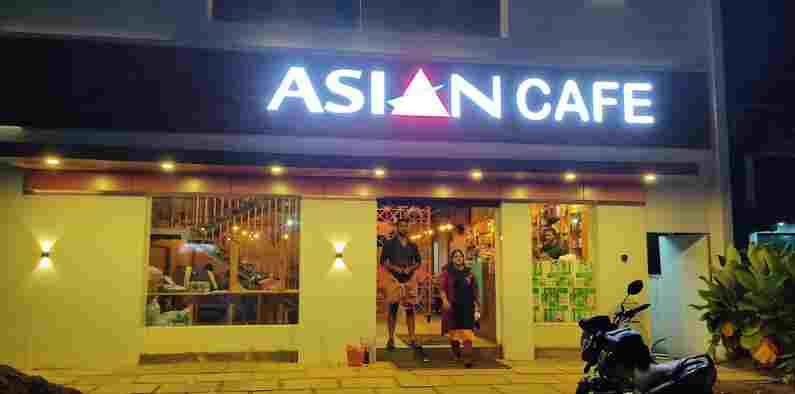 Image Credits: Jyothish Babu
If you prefer seafood, it is the right place to eat food, Oachira. They serve all kinds of seafood.
The ambience of a hotel is very beautiful. They do catering service as well.
They have a vast air-conditioned hall for group parties. Accommodating and polite staff. 
Special Food List 
Fish head curry 

Kabsa 

Konju roast 

Paneer Chilli 
Main Food List
Gravy spilt porotta 

Kizhi biryani 

Special Fried rice 

Kizhi porotta with beef roast 

Beef dry fry 

Chicken kondattam curry 

Chicken 65 
Best Chinese Restaurant in Oachira
There are many Chinese dishes lovers in Kerala. The best Chinese dishes served at the restaurant in Oachira are:
Image Credits: Sambu Suresh
6. Open Grill Restaurant Oachira
Nice place with a cheerful ambience.
Melodious music running in the background with a gentle sound will enhance your mind and appetite.
Good food and have excellent parking area. 
Special Food List 
Chilly Gobi 

Gobi Manchurian 

Chilly paneer 

Chilly beef 

Pepper Beef 

Ginger Chicken 
Main Food List 
Chilly chicken 

Chicken Manchurian 

Garlic chicken 

Pepper Chicken 

Kadai Paneer 

Butter roti

Shawai 

BBQ
Looking for delicious birthday cakes, shwarma, falooda, and other bakery items? Come to De cake world oachira today! We promise you won't be disappointed.
Image Credits: SARATH S U
The best bakery in Oachira Town is known for its birthday cakes.
People often order cakes from here for birthdays and other special occasions.
The store offers pick-up or delivery options for their cakes. All of the cakes are superb according to reviews.
In addition to cakes, they also have high-quality sweets and snacks.
The store also sells birthday accessories like candles, party favours, and tableware.
There is also a restaurant on the premises with enough space for dining in.
They serve juices, shakes, ice cream, and both vegetarian and non-vegetarian dishes – all of which are amazing according to customers.
Special Food List 
Birthday cakes
Falooda
Shawarma
Shakes
Biriyani
Main Food List 
& more…
There are many restaurants in Oachira, ranging from fast food to fine dining. 
After enjoying a delicious meal in one of Oachira's fine restaurants, be sure to visit the Oachira Parabrahma Temple, the Krishnapuram Palace, and the Atma Ayurvedasram. These are three of the most popular tourist attractions in the city and you're sure to enjoy them!
Wait… Read about restaurants in Punalur too, if you plan to visit there.
If you're looking for more restaurant reviews, make sure to follow mykeralafood. We'll be sure to keep you updated on the latest and greatest food trends.