6 Best Restaurants in Kasaragod – My Fav Places to Eat
Written by Ayshath Nasreena Wednesday, December 21 2022
If the food is good, the mood is good!
There is no real love like we have for food!
Those who love food also love to be chill and energetic. 
But not only food alone is not satisfying. We like to have nice foods with the person we love around, the matching vibes, the scenarios, the ambiance, etc. 
We have to look onto these things too. It becomes more competitive when you are a photogenic too! 
Because you want to match the place with the qualities of photos! 
But no worries!
The more demands you have, the more options you can choose from. 
If it is about our hometown, we have a lot of options that can match with
choices and your vibes. 
Let's learn more about best-selling and Yummillicious food provided within your nearest restaurants in Kasaragod.
6 Best Restaurants in Kasaragod
One of the top-serving restaurants in Kasaragod town with delicious cuisine.
This place is mainly famous for its signature dish, Biriyanis of chicken, mutton, and beef, and its excellent service.
In case you are vegan, sorry! best for you is yet not to come, Viceroy is a restaurant with non-veg dishes, which include Chinese and Afghan biriyanis. 
The biriyanis they offer have and special heart from the people who visit – They even have regular customers for their biriyani. So Biryani lovers out there! Just visit once and experience your own!
Image Credits: Vasanth Vihar Kasargod
2. Vasanth Vihar Kasargod
Vasanth Vihar is one of the Top Veg restaurants in Kasaragod. 
Veg lovers are going to love their pureVegetarian dishes, for truth! 
They serve South Indian, multicuisine, North Indian and Continental
dishes which include Mysore masala Dosa,Veg Special Thali, Vada pav Bhaji, Idly Vada Sambar and everyone's favorite chats, Masala puri, Pani Puri and much more.
Their porotta and Gobi Manchurian have people's hearts. 
It is not the end at all! 
If you are a foodie, biriyani is a must!
 Hence they Serve the best veg biriyani in the town. You can taste every type of food in one place, whether it's the time for Breakfast, lunch or tea break in the evening.
Veg lovers will love this, and I Am sure you gonna enjoy this for Sure with the best maintenance and affordable Prices. So Veggies out there just have the best one!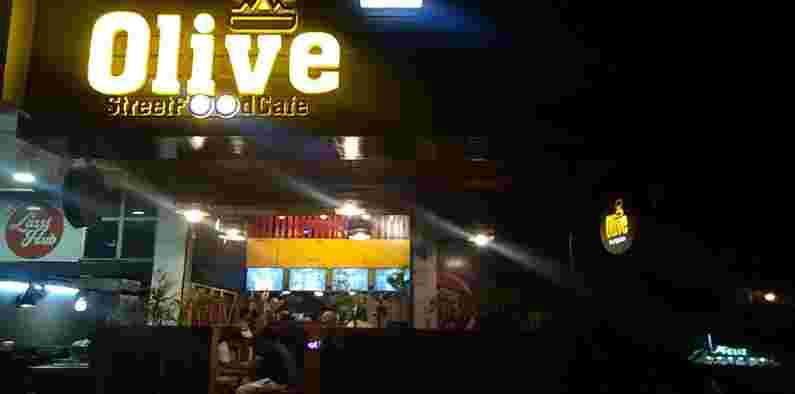 Image Credits: Olive Street Food Cafe
3. Olive Street Food Cafe
Favorite Spot of Students! Olive street food cafe is one of the favorite hangout Spaces for students, the reason behind it is there pocket-friendly menu, which is affordable for everyone, mainly students. 
The cafe is situated in the new bus stand opposite the former Big Bazaar.
They have a dine-in facility, and even though there is a limitation to accommodate the huge number of customers because of lack of space, the Spot is one of the tops and loved by the audience already because of the menu, which includes grilled porotta, chicken cheeripanadh, Grilled porotta, Mix Club Sandwich and varieties of shakes and so on.
Many of their Signature dishes are highly appreciated by the customers.
Image Credits: Cita Pani Fried And Grilled Restaurant
4. Cita Pani Fried And Grilled Restaurant
Fried chicken lovers out there!
The best spot for you is here! 
In the Heart of Kasaragod, Cita Pani Fried and Grilled Restaurant offers you a varietyof grilled and Fried Chicken which the youth yearns for! 
The menu varies from the family pack as well as individual pack as your wish andneed. Even if it is in the city, you still can feelthe calm. The trouble we face when we pack choose a restaurant is parking, and this problem doesn't exist here as they provide parking near the restaurant. 
When you crave some fried chicken you can choose Cita Pani, Undoubtedly!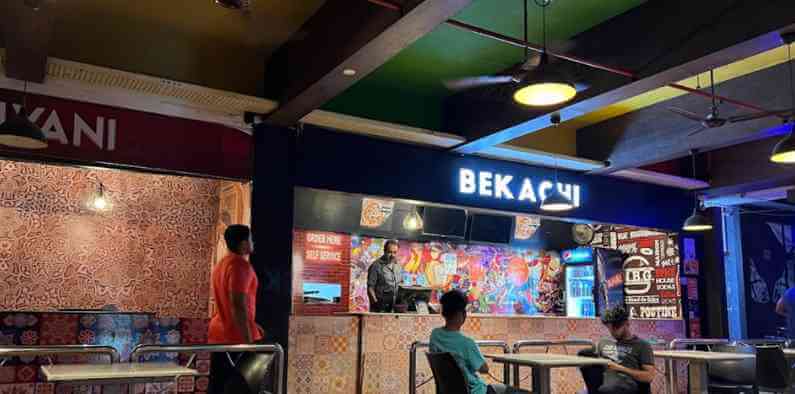 5. Bekachi Cafe Kasaragod
Bekachi?
Funny name right.!
Have you ever heard it before.?
Do you know the bekachi meaning in malayalam.?
I think you may not be familiar with the cafe name 'Bekachi', bekachi meaning is 'Pazhampori (Banana fry)' in the Kasargod dialect.
Bekachi Cafe Kasaragod can give you an atmosphere of a food court in a mall. It's a small shopping mall.
Not only that, As the restaurant is on the 3rd floor of the building, when you enter into the restaurant's balcony, you can have a beautiful view of a lake and a bunch of small trees.
The view is marvelous as we can see a river flowing through a thick forest. When my friend started to capture the great visuals on his mobile phone, I started to capture it with my eyes.
I still see the picture. I always enjoy the visuals and let others capture me and the visuals as I don't  want to miss the view and the moment at Kasaragod cafe.
To add some more tastes to that view, order ice cream, go there, enjoy that view, play your favorite song and live in the moment by listening to the songs and enjoy yourselves in that view.
I tried kuzhi mandi and Alfham with Nutty fusion shake and mixed shake which were awesome and refreshing.
Bekachi cafe Kasaragod menu such as Bekachi falooda, burgers, juices, French fries, tandoori pizza, sandwich, broasted chicken, kuzhi mandi, alfa ham, tandoori chicken, biryani, Kubboos, Gobi Manchurian and Parotta with delicious chicken curry, etc are also available.
Image Credits: Century Vegetarian Restaurant
6. Century Vegetarian Restaurant
One more vegetarian restaurants in Kasaragod where people from every side gather to have their yummy foods! 
The best thing about the restaurant is its hospitality and efficiency. 
They provide a lot of healthy and Tasty dishes for all groups of customers.
You need not wait for a long time as they have fast delivery, which is fresh and available at affordable prices; this restaurant has been in the Service longerthan a decade and still has the people's love for their best qualities, including dishes. 
Best for vegans!
Kasaragod is a great place to explore after a delicious meal at restaurants in Kasargod. Popular tourist destinations include Bekal Fort, Ranipuram Hills, Malik Deenar Mosque, Ananthapura Lake Temple, Thaikadappuram Beach, etc.
If you're looking for more restaurant reviews, make sure to follow mykeralafood. We'll keep you updated on the latest food in Kasaragod so that you can enjoy your dining experience to the fullest!