Hi Foodies,
Are you looking for the best restaurants in Kasaragod?
If yes, you are at the right place!
I am a foodie and now I know that you are a foodie too…
Who is really a foodie?
Or how would you define a foodie?
If you ask me, I will define a foodie as a hunter.
Do you know when a hunter hunts?
He hunts when he is hungry.
Right?
Yes, a hunter always hunts to fill his stomach and he always hunts different prey…
Sometimes he hunts the same prey to taste the meat again or to fill his hungry stomach as he didn't get any new prey.
Foodies are also like that…
They explore new or same restaurants to try out new and variety dishes according to their tastes or interest…
Sometimes, they try the same dishes to taste the same food or cook the same food to fill their stomach.
And it goes on like that.
A hunter never stops hunting…
A foodie also never stops exploring.
Here, I have found some best restaurants in kasaragod for you…
Best Restaurants in Kasaragod
Viceroy Hotel Kasaragod
Viceroy restaurant Kasaragod includes a couple of delicious and famous biryanis. They serve Mutton Biryani, Chicken Biryani, and Fish Biryani which are very tasty and delicious.
We got down from the bus and went straight to the viceroy kasaragod out of Kasaragod's new bus stand. I could not taste their famous Fish Biryani, and now I regret why I missed it. But, sooner or later, I'll taste it.
It was so crowded that people were waiting for chairs to try out their tasty Biryani. We waited for some time and eventually got our chance.
We ordered Mutton Biryani and Chicken Biryani. Both were so awesome and tasty. This viceroy kasaragod and their biriyanis are a must-try one whenever you visit Kasaragod.
I visited the viceroy kasaragod a year ago with my friend. It's only 270-meter away from Kasaragod's brand new bus stand.
Oryx Village Kanhangad
My buddy suggested this Oryx Kanhangad; once I asked him to indicate the renowned food at Kasaragod or the nearest place where I could try the best chicken biryani. Thanking him now, or I would have missed such a lovely restaurant.
I was amazed to see that the wonderful interior of this restaurant. The different food segments they have among the uniqueness of the restaurant. The restaurant has a special vibe and also an excellent atmosphere.
Oryx village Kanhangad has an uncountable oryx cafe menu with varieties of yummy foods. And finally, their superbly yummy foods. You know, they have fabulous food segments such as Oryx cafe, Oryx restaurant, Jungle Restaurant, Live fish corner, Children play area, and Pastry.
Do try out the delicious dishes from one of the best restaurants in Kasaragod. As soon as I visited Oryx village Kanhangad for the second time, I ordered Cheenavala biryani. Still, the prawns in biriyani weren't cooked properly, so I whined about it, canceled the dishes, and ordered delicious mutton biryani rather than this Cheenavala biriyani.
I tried so many dishes like Cheenavala Biryani, Parotta with Mutton curry, Garlic cheese naan, Triple fried rice, American chop suey, Schezwan fried rice, Meals with fish curry, Pastry, Kizhi porotta, Vellayappam with Beef curry, Kappa biriyani, Pathol with beef curry, Fish momoreCashew nut shake, Pineapple juice, Clear soup, Kunji Kozhi nirachathu, etc.
I visited the restaurant several times. Whenever I visit the Oryx restaurant Kanhangad, I try something new. The staff of this restaurant is very polite, and their support is valued.
Hotel Pancharatna Kanhangad
Hotel pancharatna Kanhangad is your ideal restaurant in case you're searching for vegetarian food. It is a pure and classy vegetarian restaurants in Kanhangad to tender the tastes of fermented foods things.
Besides delicious vegetarian foods, they also serve North Indian street foods such as Pani Puri, Masala Puri, Bhel Puri, Sev Puri, etc.
I enjoyed the Panchratna hotel Kanhangad food once I went there. I ordered one Masala dosa with vada. Besides, one plate Sev puri. Both tasted magnificent and felt absolutely like a Namboothiri style masala dosa.
They've great menu lists, including starters like Paneer Tikka, Paneer Achari Tikka, Mushroom Tikka, Gobi Tandoori, Baby Corn, etc.
The Basmati rice dishes like Veg Pulav and Paneer Pulav are also on the list, and soups such as mixture vegetable apparent and candy corn soups.
Desserts like Gajar halwa, Kashi halwa, Gulab jamun with Ice cream would be just another attraction of the restaurant.
Panchratna hotel Kanhangad is a practiced restaurant for those who love to explore different and various dishes.
Iceberg Kanhangad
Iceberg Kanhangad is one of the best restaurants in Kasaragod that will melt you with their yummy ice creams, snacks, juices, and shakes.
I visited this restaurant with my pals and tasted a wide variety of ice-creams and extremely flavorful snacks.
iceberg kanhangad menu such as Ice-creams, Vanilla, Strawberry, Tender Coconut, Chocolate, Spanish De Light, Pista, and Butterscotch are the primary attraction of this restaurant.
Iceberg Kanhangad is best restaurants in Kasaragod includes a distinctive vibe because they focus on their interior of the restaurant that could provide you a serene and joyous ambiance and atmosphere.
It's the best place to make you happy, like eating an ice cream. Perfect spot for families and couples who want to spend their weekend together with having chilled ice-creams.
Bungalow Restaurant Kanhangad
Bungalow 47 Restaurant Kanhangad can offer you delicious food with the best heritage style homely atmosphere.
I had visited the Bungalow restaurant Kanhangad 2-3 times. Explored some delicious foods with my friends.
When I visited the restaurant for the first time, it was raining and that drizzling sound outside with the visualization from the dining table was a great view.
We tried Beef varattiyathu, Mutton Biryani, Alfahm, Porotta, Garlic butter naan, Kulcha, and Chicken Manchurian. It was delicious and tasty.
The second time was funnier than the previous one. I went there with my friends at 6 pm after visiting the famous Bakel Fort.
Ordered the same delicious foods again and they also liked the restaurant and its atmosphere. We had a good day.
Bungalow restaurant Kanhangad has parking facilities and we received a warm welcome from the restaurant staff.
They were polite and serving greatly. The dining area and table arrangement were good and the restaurant was clean and neat.
Badriya Hotel Nileshwar
No words to explain the taste of Biryani at Badriya hotel Nileshwar.
The hotels in nileshwar is the best restaurants in Kasaragod for its famous biriyani, not only in Nileshwar but also around Kerala.
I visited the hotel with my friend at night after 7 pm and ordered one plate of Chicken Biryani, Ghee rice, and Beef curry.
I then planned to have Kasaragod special snacks but unfortunately, it was not available as it was night.
I started to have Chicken Biryani, the flavor of Biryani is something special and tasty and then I tried Ghee rice with delicious beef roast.
I must say the combination of Ghee rice and beef roast can't bring happiness like Beef biryani even if it's mixed from Ghee rice and beef roast.
Both tasted awesome and had good quantity and quality in food.
It tastes fresh and reviving and also worth the money. The food items served here is best for those who love to eat biriyani often.
Bekachi Cafe Kasaragod
Bekachi?
Funny name right.!
Have you ever heard it before.?
Do you know the bekachi meaning in malayalam.?
I think you may not be familiar with the cafe name 'Bekachi', bekachi meaning is 'Pazhampori (Banana fry)' in the Kasargod dialect.
Bekachi Cafe Kasaragod can give you an atmosphere of a food court in a mall. It's a small shopping mall.
Not only that, As the restaurant is on the 3rd floor of the building, when you enter into the restaurant's balcony, you can have a beautiful view of a lake and a bunch of small trees.
The view is marvelous as we can see a river flowing through a thick forest. When my friend started to capture the great visuals on his mobile phone, I started to capture it with my eyes.
I still see the picture. I always enjoy the visuals and let others capture me and the visuals as I don't want to miss the view and the moment at Kasaragod cafe.
To add some more tastes to that view, order ice cream, go there, enjoy that view, play your favorite song and live in the moment by listening to the songs and enjoy yourselves in that view.
I tried kuzhi mandi and Alfham with Nutty fusion shake and mixed shake which were awesome and refreshing.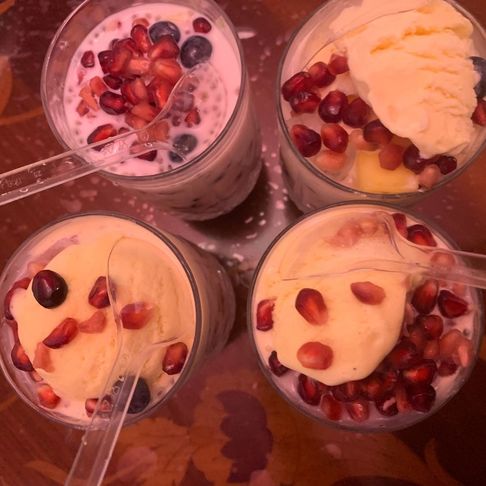 Bekachi cafe Kasaragod menu such as Bekachi falooda, burgers, juices, French fries, tandoori pizza, sandwich, broasted chicken, kuzhi mandi, alfa ham, tandoori chicken, biryani, Kubboos, Gobi Manchurian and Parotta with delicious chicken curry, etc are also available.
Foodies can really enjoy the varieties of delicious food items from best restaurants in Kasaragod.
Explore best hotels in Kasaragod and Kasaragod special food items like a hunter and taste it like never before.
These moments are enough to make your day better.
Enjoy.