Hi foodies,
Still Looking for Kasaragod special food items.?
It was not easy for me first to find out the Kasaragod special food and its name.
When I was studying there, I began to learn their culture, food and tastes…
That's how I learned their delicious and different food recipe.
The names are totally different for the foods that are familiar to us.
They call 'Saji ka' for 'Upma' and 'Bakachi' for 'Banana fry'.
But, if you know what those Kasaragod special food are, you can find out and taste them easily…
Also if you are familiar with the recipe of these dishes, you can try out these delicious and healthy dishes at your home…
As you know, Kasaragod is a land of a union of 7 languages and it is hard to identify the names of dishes when you hear them for the first time.
Whenever you are planning to visit Kasaragod or planning to cook it at your home…
Try out this Kasaragod special food…
The dishes like Kaipola, Kaamb Varavu, Ottupola, Madakkada, Ada, Manja Chapala Appam, Unnakkaya, and Goli Baji are the kasaragod special snacks and the list of dish's name goes on…
There are so many variety of dishes in Kasaragod. But, here I only mention the most and tasty kasaragod special food items.
Have you heard any of these Kasaragod food unique names before.?
If not, know it now…
Top 7 Kasaragod special food items
Here you can explore the Kasaragod special snacks and dishes..
Kaipola
Kai pola or pola is also known as banana cake…
It's one of the special and delicious snacks of Malabar, especially Kasargod, and the process of making it is easy once you are familiar with the ingredients and the process.
Here I am explaining the ingredients and methods of kaipola recipe. You can learn how to make kaipola at home today…
Ingredients
Coconut oil
Ghee
Egg
Cardamom
Raisins
Cashew nut
Banana
Sugar
Methods
Take banana and peel and cut into small pieces…
Take a nonstick pan and add oil or ghee…
Add cashew nuts, raisins. Fry until it turns into golden color and keeps aside…
Add sliced banana and fry banana pieces…
Take a bowl and add cardamom powder, sugar and combine well…
Add egg also and mix it well…
Take a non-stick pan or use a cooker and add the mixture of banana and egg
Add fried cashew nuts, raisins above the egg mixture…
Cook for 15 to 20 minutes on low flame.
Ready to serve the delicious Kaipola
Goli Baje
Goli Baje is one of the most popular Kasaragod special snacks.
Have you ever heard the name before?
The dish is also famous in Mangalore and Mysore…
Goli Baji is a delicious snack that no one can avoid. A bit is enough to get the spicy, and flavor of the baje…
Having this spicy and tasty dish with coconut or chili chutney is marvelous in taste…
Try out the delicious goli baje recipe at home..
Ingredients
Oil
Chilli
Salt
Ginger
Onion
Flour or Cornflower
Baking soda
Curry leaves
Chopped coconut
Methods
Take Maida(flour)…
Add baking soda and salt…
Combine well…
Take a pan and add oil…
Add chili, ginger, chopped coconut, and sliced onions, curry leaves…
Combine well and keep it aside…
Make a small ball sized ball…
Dip the ball into flour and fry it in hot oil…
Drain out once it's ready…
Ready to serve your delicious Goli Baje…
Ela Ada
Ela Ada or ila Ada is a Kerala traditional delicious sweet…
It is steamed in steamer or cooker. Ela ada with banana leaf with rice flour, coconut, and jaggery.
Manja Chapala Appam is also the same dish as Ela Ada. It cooks using turmeric leaves instead of banana leaves to steam the ads…
Both are Kasaragod special sweets that are delicious and mouthwatering ones…
When taking a bite of the elayappam, we can feel the grated coconut and jaggery with the steamed flour tastes like a sweet candy inside our mouth.
The melted jaggery and its taste combine inside the mouth when chewing is another level of taste…
Do try out the delicious ela ada recipe once…
Ingredients
Water
Rice flour
Grated coconut
Jaggery
Cardamom Powder
Banana leaf or turmeric leaf
Methods
Keep the pan and add water…
Add rice powder and combine it well…
Wait until it cools down…
Combine the dough well…
Combine grated coconut, cardamom powder, and jaggery well…
Take a piece of Banana leaf or Turmeric leaf…
Place the leaf in your left hand…
Take a piece of dough and make a round size dough in the center of the leaf…
Press and make the Ada with wet fingers…
Fill the dough with a mixture of coconut and jaggery…
Fold from one side and press tightly…
Take a steamer or cooker…
Steam it for 20 to 30 minutes…
Ready to serve the Ada…
Madakkada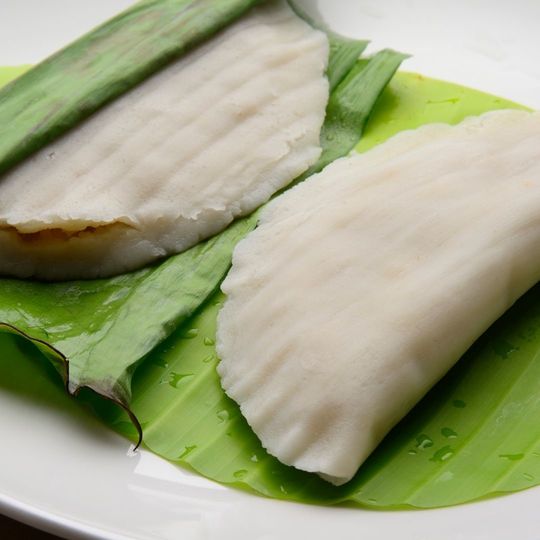 Madakkada, ela ada without banana leaf…
It is also the same as Ila Ada or Manja Chapala Appam.
Here, we are not using a banana leaf or turmeric leaf. It cooks directly in a steamer or cooker…
It tastes the same as Ela ada…
Ingredients
Water
Salt
Cumin
Cardamom
Shredded coconut
Jaggery
Rice powder
Methods
Take a bowl…
Add shredded coconut, salt, cardamom, and cumin powder….
Combine them well…
Boil Jaggery with required water (Don't add so much water) or you can smash jaggery like powder and add jaggery without boiling…
Boil required water and add the rice flour after or while boiling…
Wet your palm with water and knead the dough well as a round ball…
Press each ball tightly from your palm and add the mixture of coconut and jaggery…
Fold the ada in half and press the edge with your fingertips…
Take a steamer or cooker and steam it for 20-25 minutes…
Ready to serve the Ada…
Ottupola
Ottu Pola or Ottada is a traditional Kerala food…
It is cooked in an Ottu Chatti (claypan) and the dish is known by various names around Kerala…
Ottada or Ottada appam is a tasty dish that can have different types of curries like vegetable kurma or meat like Chicken curry, beef curry, or mutton curry…
It's a delicious ottada appam that can be made easily at home using ottada chatti…
Try out ottada recipe…
Ingredients
Water
Salt
Boiled rice
Rice soaked for 2 hrs (soak at night and take tomorrow for breakfast)
Egg optional
Grated coconut
Methods
Grind raw rice, boiled rice, grated coconut in a grinder or mixer…
Add water if required and keep it for 20 – 30 minutes…
Take Ottu chatti and heat to high or low medium…
Pour the ottu pola batter into Ottu chatti…
Cover with lid…
Take out once it's done…
Ready to serve the Ottupola…
Unnakkaya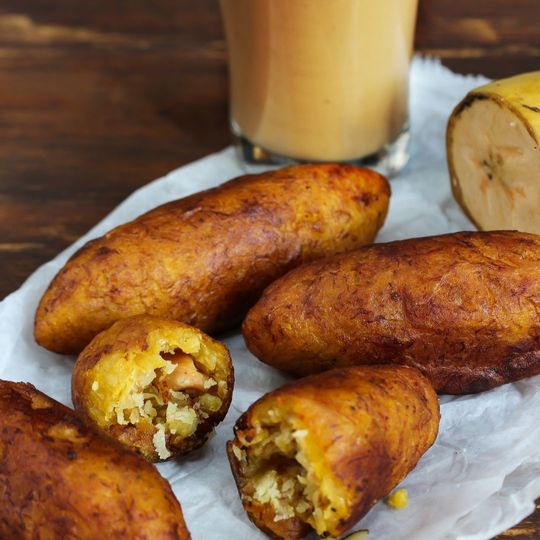 Unnakkaya is one of the delicious snacks of Malabar…
The name is the same for Unnakkaya around North Kerala…
It's a famous and tasty snack which can be cooked as a vegetarian dish or non-vegetarian dish…
The taste of Unnakkaya is marvelous…
While having Unnakkaya, I can feel the taste of grated coconut and banana…
Biting cashew nuts and raisins while having is more delicious…
Try out the sweetest unnakkaya recipe at home today…
Ingredients
Oil
Salt
Ghee
Raisins
Cashew nuts
Cardamom powder
Steamed Banana
Grated coconut
Sugar
Egg (optional)
Methods
Steam the bananas (Don't overcook the bananas as we want medium cooked bananas)…
Peel off the banana skin and cut it in half…
Remove the black seed thread…
Mash it and keep it aside…
Take eggs and scrambled eggs in a pan and keep them aside (optional)
Take a pan and add oi…
Add grated coconut, sugar, cardamom powder, raisins, pinch sal,t, and cashew nuts…
Combine them well…
Take from pan and keep it aside (add the scrambled egg – optional)
Take mashed banana to your hands and make it as around like a ball in your hands…
Press the round ball and add the filling the inside…
Seal the edges with your top fingers…
Shape it as you want or the same shape as Unnakkaya…
Take a deep bottomed pan and heat oil…
Fry till it cooked like a golden color…
Ready to serve your tasty and sweety Unnakkaya…
Kaamb Varavu
Vazhapindi Thoran is also known as "Kaambu Varavu" in Kasaragod…
Plantain stem/Vazhapindi Thoran is the main ingredient and it is known as Vazhapindi in Malayalam…
It is a delicious and one of the healthy side dishes of Kerala…
The plantain stem will be inside of the banana tree. We have to peel the skin to take out the plantain stem.
Vazhapindi thoran is a healthy and nutritious dish that everyone should try at home…
Once it's taken, cut into pieces and ready to cook…
Ingredients
Coconut oil
Salt
mustard seeds
Red chilies
Scraped coconut
Chopped plantain stem
Turmeric powder
Chilly powder
Curry leaves
Methods
Take a pan
Add oil, mustard seeds, and red chilies.
Combine them well
Add chopped plantain stem and scraped coconut and wait to be cooked…
Add turmeric powder, chilly powder, and salt…
Combine well and it's done…
Ready to serve the healthy and tasty Kaambu Varavu…
Explore kasaragod special food items, snacks, cool drinks and taste it always whenever you visit there…
Know the recipe and make delicious dishes at home…
Explore best Restaurants in Kasargod
Have delicious foods and enjoy the day with family…