7 Best Restaurants in Thalassery
Written by Zurura Thazneem Wednesday, August 24 2022
Tourists love to try new things, and so should you! There are plenty of great restaurants in Thalassery that are worth exploring. Wake up the tourists in your mind and go check them out!
Thalassery is a place where food is served with an extra tablespoon of love. The city is known for its unique tastes and flavours.
Thalassery cuisine is a popular sub-cuisine of the state that is globally recognised. Thalassery biriyani originated here and is the most popular ethnic brand of biryani in Kerala.
Walking through the streets of Thalassery and savouring the ocean of flavours is an experience you won't forget.
Thalassery is a food paradise. With so many delicious options, it can be hard to decide where to eat. Here are some of the most popular eateries in Thalassery, where you can sample the local flavours.
Best Restaurants in Thalassery
Image Credits: Ananthu Anil
1. Paris Restaurant Thalassery
Thalassery is known for its Dum Biryani, an old-style dish that is still made traditionally. The Paris restaurant was one of the best biriyani restaurants in Thalassery. 
The Paris Hotel is the birthplace of Thalassery Dum Biryani. It's an old-school place with excellent taste that brings you back every time. The hotel is divided into small rooms with three to four tables, and each room has its own unique vibe.
The new Paris restaurant is next to the old one, but it's the old-school vibe and excellent taste that keeps people coming back to the Paris hotel.
Unfortunately, there is no parking, so you'll have to walk to get there. But it's worth it for a taste of the heart of the town.
The service in the Paris restaurant is just okay. They serve what you order. They are not too friendly, but it is okay for me as i am here for biriyani.
Service options: Dine-in, takeaway, no-contact delivery
Address: PFW+XV4, Mattampuram Road, NH66, Thalassery (Kerala) 670101
Image Credits: Muhammed Shihad
Raravis is the one best biriyani restaurant in Thalassery! They have a large seating area, both with and without air conditioning: good hospitality, are time-consuming and are one of the top restaurants in Thalassery.
The staff are amicable and helpful.
The food is delicious, and of course, their biriyani is impressive because they use Lagon chicken, which is very rare nowadays. Kuzhi mandhi, a very famous Arabic dish, was available here. It was just fantastic.
There's also a great variety of chicken, mutton, seafood, and vegetarian dishes. They accept both card payments and UPI payments. One of the best family restaurants in Thalassery
The staff are amicable and helpful.
Good parking facility.
The washroom was not hygienic.
A restaurant specialises in regional biryani dishes from India and Arabian and Chinese fare. A straightforward Indian restaurant offered regional biryani dishes and Arabian and Chinese food.
I had the chance to visit both the MVK restaurant and Raravis, and I have to say that I enjoyed MVK's biryani better. It had more flavour and was more filling.
Service options: dine-in, takeaway, no-contact delivery
Address: Pallithazhe, Narangapuram, Thalassery, Kerala 670101, Manavatty junction, AVK Nair Road
3. Lafair Restaurant Thalassery
Lafair restaurant was one of the most popular places to eat in Thalassery. They were known for their excellent food that always left people wanting more.
Lafair is a great place to order food from because the food is always delicious and arrives on time.
The staff are super friendly and always go the extra mile to ensure the customers are happy.
The most popular items on the lafairs menu are beef ribs, seafood Tawa fry, chicken kebab, dragon chicken, and kalmakkai tawa.
Their menu feels unique, as they provide a variety of dishes. The restaurant is neat, clean, and pocket-friendly, and the ambience is also great. They have good free underground parking, which is a bonus.
Service options: dine-in, takeaway, no-contact delivery
Address: Logans Rd, Pilakool, Thalassery, Kerala 670101
4. Caravan Arabic Cuisine
If you're looking for the best cafe in Thalassery area, Caravan is worth checking out. Although it's a small space, the atmosphere is pleasant, and the food is good.
The Mexican shawarma is especially noteworthy and give it a try! As said, there aren't many vegetarian options available, so it might not be the best choice for families.
But if you're with a group of friends who are looking for some delicious non-vegetarian foods, Caravan is an excellent option.
The quantity is also relatively healthy, unlike other fancy restaurants. They have a beautiful small menu with a wide variety of Arabian dishes.
Different foods are served in different flavours, and it's a good idea to try something new once in a while. Door-to-door delivery makes it easy to get your favourite dishes any time you want.
Service options: Dine-in Takeaway
Address: Jubilee Rd, Pilakool, Thalassery, Kerala 670101
Image Credits: Joshy Joseph
5. Ithathas Kitchen Thalassery
This restaurant in Thalassery was a great find!
The ambience was perfect—not too crowded, and the parking situation was ideal. The food was delicious, and the spiciness and other options were custom-made per the customer's interests.
The rates were moderate and not too costly. I would say they were worth the amount from the ambience, the tasty food and the amenities provided.
The washroom facilities were terrific. Usually, when you go to restaurants, the bathroom and kitchen area are untidy and unclean, but that wasn't the case here. The bathrooms were well-maintained and spotless. This is a place worth stopping if you're on a long drive.
This restaurant is one of a kind. They use local bamboo to make the tables and chairs, creating a creative ambience. The water over the front glass wall is also unique and gives a great view.
The service and food are both of top quality. There is also plenty of parking, and the restaurant has a great view from the road.
Service options: Dine-in Drive-through, No-contact delivery
Address: Ithathas Kitchen, No.9, 180A, Chonadam, Thalassery, Kerala 670107.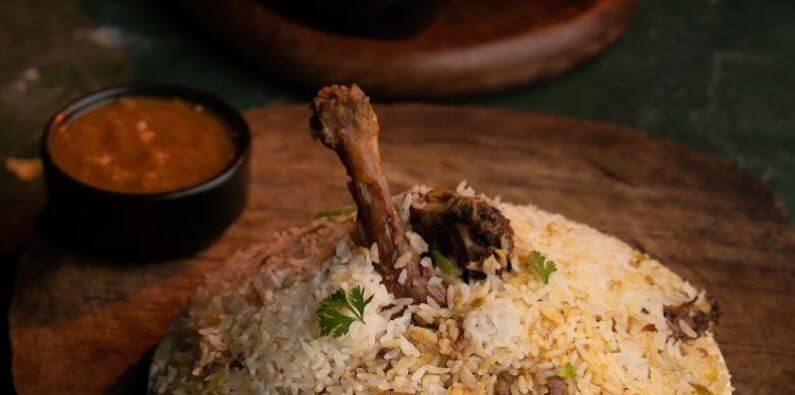 Image Credits: Pepper Palace
6. Pepper Palace Restaurant Thalassery
Pepper Palace was one of Thalassery's best restaurants, with good ambience, food and service. We never feel crowded because of the spacious seating. We can eat with a good feeling of peace of mind. It was a famous restaurants in thalassery.
A restaurant was specialising in regional biryani dishes from India, as well as Arabian and Chinese fare.
The employees are helpful, and the food comes in large quantities. In comparison to others, the price is reasonable.
The environment and surroundings are well organised and clean, making it suitable for parties and events—the best dine-in service for families. Most importantly, the food was perfectly prepared and served fashionably and internationally.
This restaurant is located near the Thalassery police station and is best visited at night to appreciate the ambience. However, during festival season, it can be so crowded that you might have to return without being able to get a table. The evening is usually much smoother, with good customer service and care.
The food here is authentically Thalasserian, with other cuisines added.
Service options: Dine-in, takeaway, no-contact delivery
Address: Gundert Road, Thalassery, Kerala 670101 (near State Bank of India).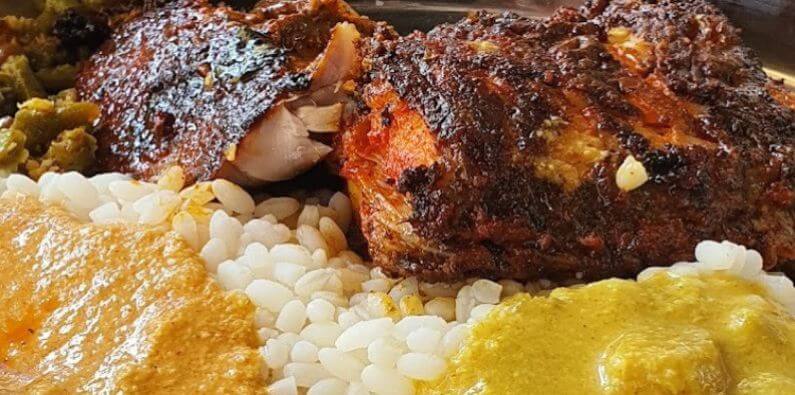 Image Credits: Ahammad Musafir
7. National Hotel Thalassery
Are you planning your trip? Be sure to put Sea View Park on your list, and don't forget to decide where you want to eat! This restaurant is right next to the park, so it's the perfect spot to refuel after a day of exploring.
The National Hotel was one of the good seafood restaurants in Thalassery. This restaurant is an excellent reminder that you don't need a fantastic interior or building to have a successful restaurant business. All you need is fresh, tasty food and friendly staff!
The seafood varieties are the main attraction at this place, and also their meals (nadan oonn).
An old-fashioned radio blares out tunes from the local FM station, providing an unsophisticated but cheerful ambience. Stop here en route for typical Thalassery food-it'll be worth the effort!
This is a small, busy place with no parking space, so you have to park your vehicle somewhere and walk to the restaurant.
Service options: Dine-in, Takeaway, Delivery
Address: QF3M+FQQ, NH 66, Palissery, Thalassery, Kerala 670104
Thalassery is a great place to explore after a delicious meal at restaurants in thalassery. One popular spot is Dharmadam Thuruth, an island known for its dense coconut groves, palm trees, and green bushes.
Thalassery Fort is another great option. This British-era fort, built in 1709, sits on a rocky cliff and features beautiful laterite walls and artistic carvings.
Muzhappilangad Beach is great for swimming, sunbathing, and other water sports. You can also find delicious beachside eateries here. Entry to the beach is free and its paid for vehicles.
Overbury's Folly is a seaside promenade and adventure park built in 1879. There is also a watch tower and an open-air coffee shop.
Gundert Bungalow was the former residence of German missionary Dr Herman Gundert. This colonial-style bungalow is where the first Malayalam paper was published.
The Odathil Mosque, a 200-year-old mosque commissioned by the King of Travancore, is a critical town shrine and religious site. The structure boasts beautiful teak wood and Portuguese-style tiled works.
Wait…Read about restaurants in Kannur too, if you plan to visit there.
If you're looking for more restaurant reviews, make sure to follow mykeralafood. We'll be sure to keep you updated on the latest and greatest food trends.