Hanging out with family or friends and looking for a good restaurant to have Kannur style biriyani?
If yes, MVK restaurant Kannur is the best place to start with…
Whatever food you are looking for…
Veg or Non-veg?
Both are available here…
Think about any foods…
Even it's Kannur chicken biryani, Vegeterian food, Kannur special snacks, or anything…
MVK restaurant Kannur and their new MVK travellers offers one of the best mouth-watering foods in Kannur.
MVK Restaurant Kannur
MVK Kannur is trending in the heart of Kannur and they always stand out for their Kannur special biryanis.
When you visit Kannur and haven't had Kannur special biryani, no worries, try it from MVK hotel Kannur.
It's one of the famous and best restaurants in Kannur to try delicious biryani to satisfy your biriyani cravings.
MVK Restaurant Kannur Menu
Old is gold.
Before going to the MVK travellers restaurant Kannur first, start it from old MVK Kannur…
The food here is absolutely delicious, mouth-watering, and authentic, always crowded with people.
And that's what matters, MVK is always known for its delicious cuisines of Kannur.
MVK Kannur menu offers tasty ethnic Malabar dishes, plates of seafood like Fish fry, Fish biriyani, Prawn biryani, and delicious and tasty meat foods like Kannur mutton biryani or famous Kannur chicken biryani are some of the best quality foods in MVK Kannur.
Whenever I asked for the best restaurant at Kannur, my friends there always suggested MVK to me. Though they named a few, all of them pointed MVK to be the best.
The biryani from MVK is juicy, spicy, and an amazing one. Their hot Kerala porotta are soft and tasty with unlimited curry, what else we need to love about the food as they provide it in good quantity and quality.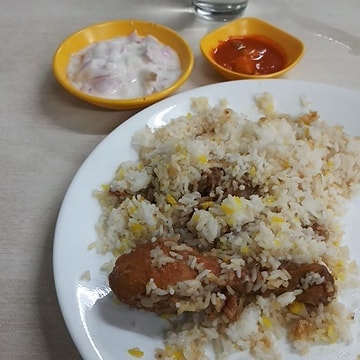 This restaurant and their biryanis like Chicken Biryani, Mutton biryani, and fish biriyani are all awesome. After having a plate of biryani, a Sulaimani is a must. Try for yourself and thank me later!
To enjoy the taste of Kannur, taste their delicious snacks like Unnakkaya, Pola, Chattipathiri, etc while ordering foods like Biriyani, ghee rice, or porotta.
Enjoy the flavors and taste of Malabar here once, you won't forget it ever.
Although there aren't many options available for Vegetarians, vegetarian food is very tasty here. They provide Veg biryani, Gopi Manchurian, Veg fried rice and Butter paneer masala, and some veg snacks, etc.
The Kannur style biryani recipe of MVK will attract us the most as they serve the authentic and tasty Malabar Dum Biryani. The spicy colored rice, with pieces of juicy chicken, beef, and mutton will make you full and satisfied.
It's a perfect restaurant for a biryani lover to try their delicious biryani.
Ambience of MVK Kannur
It's a small restaurant, only limited seats are available. So, don't expect a five star or three star and parking facilities. But I must say it's worth visiting the restaurant to taste their yummy biryanis.
As I mentioned before, old is gold and their taste is also gold.
I mean, their taste of food.
The ambiance is not too great for all, but I liked it. Their service is great. Order food and take a parcel if you don't want to have it from there and it's awesome that they pack the food nicely in banana leaf.
Parking of MVK Restaurant Kannur
The restaurant space is limited and no parking facilities are there at the old MVK Restaurant Kannur. But it is a walkable distance from the Kannur railway station. So park there, or pay and park are available near the restaurants and visit MVK restaurant.
The staff was friendly and took care of guests politely with great service. And when my friends went there, they waited so much time to get food and the staffs didn't even come and take the order and it was not as they expected.
I agree as everyone may have different experiences. Even it's nothing great about the staff, service, or the ambiance, but tasty food makes up for everything else.
MVK Travellers Restaurant Kannur
MVK travelers restaurants is a newly opened food restaurant of old MVK restaurant Kannur placed right on national highway 66 near Kalyan silks.
MVK Travellers Restaurant Menu
MVK restaurant menu is excellent for vegetarian and non-vegetarians. They also provide Indian, Chinese, North Indian cuisines and varieties of veg and non-veg foods.
Taste their breakfast like Puttu, Dosa, Vellappam with tasty Kuruma, Fish fry, Fish curry, or Chicken curry, etc.
It's also a good place for lunch with family, try their Meals, Fish curry, Fish fry, Chicken biryani, Mutton biryani, etc with a wide variety of Kerala dishes, especially the taste of Malabar.
Ambiance of MVK Travellers
The ambiance of MVK restaurant is awesome here as the interior, dining table, chairs, walls, and kitchen are perfectly designed and look attractive.
MVK travelers restaurant provides an awesome and well-decent dining place that is divided into two, open and air-conditioned dining hall.
A very well neat and clean enough number of well-sized toilets without any smell or bad atmosphere.
Parking of MVK Travellers Restaurant
The restaurant has a very spacious good parking place with a security guard.
Sometimes, you may have to wait a bit to get a parking slot as there is a rush at lunch or dinner time.
My Verdict about MVK Restaurant Kannur
No doubt at all…
The restaurants in Kannur offers the best biriyani…
Try MVK as it is one of the best places for dum biriyani in Kannur town.
An explorer or a foodie like you who is planning to explore Kannur and its delicious foods will fall in their tastes for sure.
The food here was excellent, mouth-watering, very well-cooked, and hygienic. I liked the environments of both the restaurants as it's well-maintained with a proper dining table, good service and the best foods are calling me again to visit MVK Restaurants Kannur.
Planning for a solo trip or with the family to taste the foods of Kannur again.