Best 18 Restaurants in Kannur to Explore Yummy Foods
Written by Ayshath Nasreena Thursday, December 22 2022
No compromise with food!
We all look forward to the best in town when it's about food, and of course, when it's about Kannur, you all know Kannur is mostly famous for its best and yummy mouth-water cuisines which every Keralites Craves!
I am sure you will be confused about choosing after our recommendation because Kannur Is best for their food and must say it will be hard to choose.
Mainly Kannur is famous for the Kannur special Biriyani, which everyone highly appreciated every time since many decades before.
Now you are going to see similar dishes at each restaurant, and we chose the best restaurant in Kannur from which you choose which suits your comfort!
Here we go!
Non-Veg Restaurants in Kannur
MVK Restaurant is one of the best Non-Veg Restaurants in Kannur, which provides Indian, continental, and Chinese dishes, including curries and Biriyani. 
The Keralites have a special affection towards Biriyani, and MVK provides the best and most popular Biriyani of Kannur, for which the restaurant is famous.
The menu includes Chicken Biriyani, Fish Biriyani, Ghee rice, parotta with chicken masala, Chicken roast, chilly chicken, Fish Fry, Fish Curry, Mutton Pepper, beef Chilli and varieties Of Soups. 
Even though the price is slightly higher, people believe it is worth their ambience and services. They also provide a delivery system and no worries with Parking as they have a parking Area.
The restaurant is Situated in a feasible place on the highway, opposite Kamala international Hotel, Kannur, which might help you to grab the food as soon as possible if you are in a hurry.
If you are a Biriyani Lover, especially the special Kannur Biriyani lover, this place is a must Restaurant for you!
Image Credits: David Mentoza
Raandhal Restaurant is easily accessible and far from the City of Kannur.
It Is a cosy restaurant with many dishes to choose from per your taste and wishes. 
They serve Chicken Biriyani, Tandoori Chicken, fish Fry, Butter Chicken, Ghee Rice, Chicken varattiyathu, Fish Biriyani, Beef fry, Beef roast, and Mutton Biriyani, and the main highlight is their fresh fish live counter, which insists the seafood lover visit Raandhal.
Not the end with this, they have Chinese dishes, which are Chicken Noodles And Fried Rice And The North Indian Special Paneer Butter Masala, Mushroom Masala, Kadhai Chicken, Veg Kadai, Chicken Noorjahan, Veg Kolhapuri, And Staters, provide Dragon Chicken, Chicken Lollipop, Chicken 65, Gobi Manchurian and many more.
A sweet dish after food is a traditional rule, and in Raandhal, no need to worry about that as the list goes on, such as puddings, falooda, brownies and so on. 
One thing is sure; you are gonna confused about choosing as they have for not only non-veg lovers and vegans.
The ambience, parking place, and wheelchair accessibility Are other specialities which Raandhal provides for the customers. Last,  about Raandhal, it is best with everything they offer!
Image Credits: Chikeys Kannur
Our favourite!
Chikeys provides what we crave! 
The Chikey's outlet in Kannur serves Fried Chicken, Barbecue Chicken Pizza, Beef Napoletana, pepperoni Pizza, BBQ chicken Pizza, Chicken pops, Cheese Bomb, Turkish Rice, Chicken Burger, and coke combo, Popcorn Chicken, Cheese Fries, and for Drinks lots of mojitos!
What more can we ask for? 
The best place to visit when you crave a Fried Chicken or a burger is on SN Park Road, Padannappallam, Kannur.
Chickeys provides Great food with Nice. 
The outlet is designed with a nice interior, but the parking is some struggle!
The restaurant is spacious, and there is no need to worry about the rush.
We have some best staff who are friendly to approach and can help you choose the best according to your taste! 
This place will be worth visiting, and I hope you will have a great time there!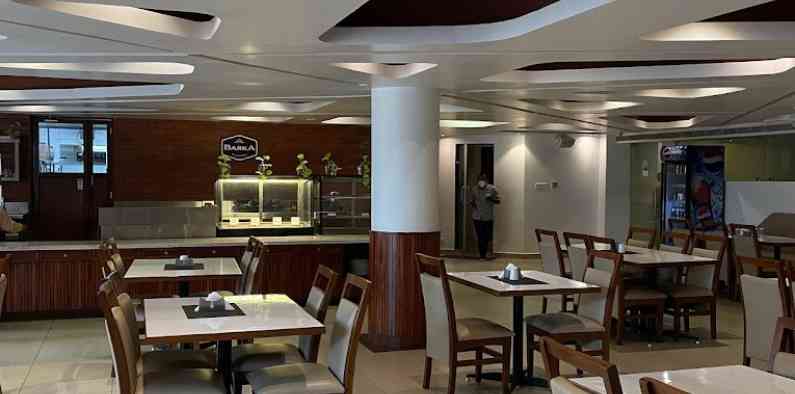 Image Credits: Barka Restaurant Kannur
4. Barka Restaurant Kannur
Whether it is breakfast, lunch, or dinner, Barka is the best choice!
Barka treats you with the best in Chicken Biriyani, Butter Chicken, Kizhi portta Chicken, Tandoori Chicken, Dragon Chicken, Chicken Kebab, Spicy chicken, Paneer Butter masala, Barka roasted Chicken, Kanthari Fish Fry, Beef kebab,kadai chicken, fish pollichathu a And the soups of sweet corn, chicken soup, and the Barka special Mutton Soup. 
Barka restaurant is well-known know for Its uncountable dishes that the customers love.
They have all modes of paying facilities and having a parking facility too..if you are a vegan and somehow got Reached here.. don't feel dejected! 
Even you can choose according to your choice as they serve veg kurma, veg meal, and gobi manchurian, which will simultaneously make you and your tummy happy!
The restaurant is located near Railway Muthappan temple Thavakkara.
If you Are looking for late-hour food at night, Sorry!
Image Credits: Ajwa Restaurant
Ajwa is a simple restaurant with common dishes such as Mutton Biriyani, Chicken fry, Beef biriyani, fish Biriyani, Chicken biriyani lagoon, chicken dum Biriyani, special Mutton biriyani, etc. 
Ajwa is mainly for different kinds of Biriyani. It is a family restaurant situated in Thana, Kannur. Many customers have reviewed that they have a unique taste in Biriyani.
The restaurant has a homely atmosphere, good ambience, and great customer service. 
If it's a biriyani day for you, visit Ajwa once!
Image Credits: MVK Travellers Restaurant
5. MVK Travellers Restaurant
Just comfortable food! 
MVK travellers restaurant, located in kannothumchal, Kannur, is an outlet with a combination of Chinese and local cuisine and breakfast and vegan options. 
They serve Chicken biriyani, mutton biriyani, veg meals, Masala dosa, Fish biriyani, Chicken kebab, Chicken fried Rice, Fish fry, plain rice, Kannur Biriyani, chicken Noodles, chicken schezwan fried rice, mushroom pepper, and prawns masala are the main dishes and many more Chinese starters are highly appreciated. 
They have daily Customers who have been trusted just for the food they serve with good hospitality and service.
The main advantage is they have a fast delivery service which we look forward to In our busy scheduled lifestyle.
All over MVK can match all your conditions.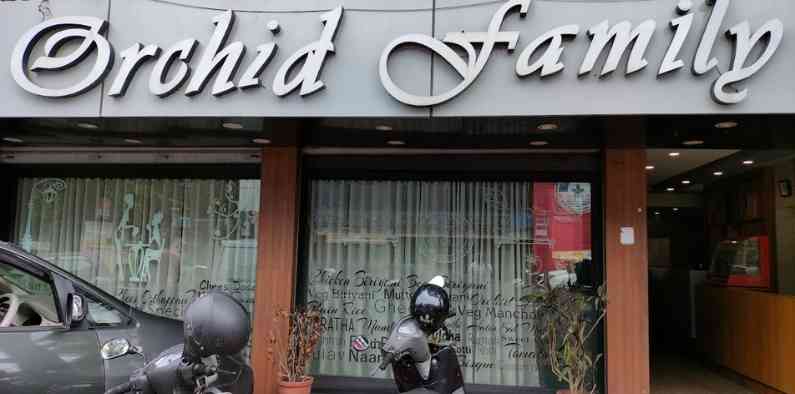 Image Credits: Arun Thottaipillil
7. Orchid Family Restaurant
Orchid Family restaurant is mainly known for Biriyani and is also Chinese and vegan friendly; not only this but also they have the best option for healthy foods.
The Chicken and prawns biriyani is wrapped in banana leaves, making it even more Special. 
The restaurant is wheelchair accessible and also has a parking Area.
Masala Dosa, even non-veg lovers Favorite!
They provide the best Masala Dosa and veg meals, and as for dinner, the main dishes are Tandoori Chicken and Alfham. 
Recently they started a delivery system, which is a plus point.
However, it is a decent restaurant to dine in.
Image Credits: Saffire Restaurant
Best in Kannur! 
As we have seen in earlier restaurants, Safire also brings varieties of Biriyani in front of you, which are Chicken, Beef and Kaada Biriyani.
Apart from these, the Chinese dishes go like Fried Rice Noodles: Veg and Non-veg and Tandoori Chicken, Dragon Chicken, and Beef fry with a mouth-watering taste!
The specialty of the restaurant carries is a variety and tasty foods that are worth the price and with parking facilities, this is one of the difficulties we find when we look for a restaurant.
Safire Restaurant on South Bazaar Road is situated near Makani, Kannur.
The working hour of the restaurant is 9 Am to 10 45 pm.
The restaurant is best in Dine-in and also takeaway Services.
Image Credits: Hotel Soft
 Another best spot for Biriyani!
 As their name goes, many customers reviewed that they provide the 'Soft' Biriyani in Kannur. 
The spot is mainly famous for its Chicken, mutton, lagoon Biriyani, and chili chicken, porotta, and Chicken Chilly, Naadan Chilly. 
Even if they don't provide much more variety of dishes, Biriyani has touched the heart of people who have already experienced and shared their happy experiences at soft biriyani.
The restaurant is situated near Fort road Kannur. 
Image Credits: Your Choice Restaurant
10. Your Choice Restaurant
At fort road Kannur, your chosen restaurant is one of your choice restaurants when you prefer non-vegetarian food items.
Here you can get various meat and fish items.
The menu highlights are Chicken Fried Rice, Dragon Chicken, Fish fry Chicken Biriyani Rice,chempalli Tawa fry, chicken Lollipop, American Chopsuey, etc.
They have been rated 3.6/5 according to just dial. And about parking, you might be disappointed because of the limited space.
So, a Choice restaurant can be one of your choices for the best Biriyani!
Turkish Restaurant in Kannur
Image Credits: Turkwise – Turkish Restaurant & Cafe
11. Turkwise – Turkish Restaurant & Cafe
 Something new on the feed! 
An ancient home to a multicuisine restaurant!
Once in a lifetime, we all wish to taste food all around the globe. 
Now you can try a different taste that you might haven't tried yet and new to you!
The multicuisine Turkish restaurant, Turkwise welcomes you to explore the taste of Turkish food. 
You may not be familiar with their names.
However, still, we are bringing you close to those dishes, which are BBQ Chicken, Grilled Chicken Salad, 1 Meter Kebab Platter, Fish Fingers, Crispy Chicken and Chips, Dynamite Shrimp, Turkish Champagne, Beef Pide, Cheese Burst Beef Burger, Vegetarian Cuisine, Salads, Turkish Chicken and Rice, Turkish Kunafa with Ice Cream, Beef Steak, Garlic Bread, Pasta Alfredo, Alfredo Pasta, French Fries, Cappuccino, Poutine Fries with Beef Keema. 
As I said earlier, you might not know about this, but it is a must-try restaurant.
That too, when it is not one common everywhere but the rarest, and it's near you now at Onden Road, Kannur.
Almost customers admired the restaurant and the ambiance with the good seating arrangement.
 A cosy restaurant that feels more likely to be home!
Visit this place once for an all-around Turkish experience!
Veg Restaurants in Kannur
Image Credits: Sree Krishnas – Pure vegetarian restaurant
12. Sree Krishnas – Pure Vegetarian Restaurant
The Vegan's favourite! 
The restaurant which won the heart of people already with the food they serve with the best quality, quantity, and irreplaceable taste and variety of dishes! 
The restaurant is almost seen a rush for the dishes they provide as Pav Bhaji, Sambhar Vada, Beetroot Halwa, Mini Idli Sambar, Onion Oothappam, Chapati Kurma, Pineapple Kesari, Kerala Veg Meals, Coffee, Ghee Roast, Masala Dosa.
The hotel has the best review for the taste and fresh items. If you are looking for authentic Kerala vegetarian meals, it's a must-visit place at J S paul Corner, SN Park Road, Padanapalam, Kannur.
Image Credits: Gignesh Govindan
13. Kannur Dakshin Veg Restaurant
 Another loved veg restaurant in Kannur, famous for its veg cuisines with authentic taste. 
The place is attracted by many people and is crowded every time. But the providence of wide seat facility helps you to enjoy your food without any disturbance.
The food highlights are Masala Dosa, Uzhunnu Vada, Kuthu Paratha, veg thali, Gobi Manchurian, Parotta, Idli sambar Vada, Filter coffee, poori Bhaaji with Vada, paneer chilli, Sambar Vada Upma, Channa Batura, Chapati, and veg Kuruma, Veg Fried Rice.
They have a lot of varieties that other restaurants offer as they are mainly focused on South Indian Dishes, which are all loved by us.
The restaurant is well-maintained and has great service.
The location of restaurant is located just opposite Ashoka Hospital, South Bazar, Kannur. 
They provide Dine-in and Takeaway facility but no contact delivery.
They have a healthy option in the food they serve and are served fast as possible.
It is the best and most reliable food destination in Kannur.
Image Credits: Shifin K Ibrahim
 'Quality' that serves Quality food! 
Enough of chicken, Biriyani!
Why don't we go for something different? 
Here the quality restaurant near the Railway station brings you the best veg Biriyani out there with the best quality and taste!
Not only just Biriyani, the vast menu includes Chappathi and Baji, Uzhunnu Vada Sambar, Onion Uttapam, Idli Vada Sambar, Uppuma, Upmav & Kadala Fry, Chola Batura, Onion Uthappam, Masala Dosa & Vada, Oothappam, Pongal, Ghee Roast, Tea, Poori, Masala Masala Dosa with Vada Sambar.
 This is one of the best veg restaurants that anyone can go to without any worries, as they have daily customers based on their food and the quality they provide. 
Are you tired of railway food after a railway journey at Kannur? 
Just get into the quality restaurant near the station and experience the taste, which Is undoubtedly the best!
 Its staff and team praise the hotel for their good management.
So vegans and Veg lovers out there, try it yourself and enjoy the best in town!
Arabic Restaurant in Kannur
Image Credits: Sufi Makhan Restaurant
15. Sufi Makhan Restaurant
Platters of Indian & Arabic favourites are offered in a streamlined eatery with garden seating. 
Sufi Makhan is one of the top-rated restaurants in Kannur. 
They have the best options for Chinese cuisines, such as Chicken Madhooth, Kuzhi Manti, Kuzhimandhi, Tawa Chicken, Hummus, Alfam Mandi Rice, Dragon Chicken, Plate Shawarma, Peri-peri Chicken, Chicken Mandi, Chicken Biriyani.
The taste of Arabian food at a single destination.
There are very few Restaurants in this area that provide these many dishes and are even wholeheartedly accepted by the customers.
The restaurant gives you some romantic vibes and a cozy feel as they have a very nice ambiance with the decorations all over the sitting area, which thrilled the People more!
 It is situated near Govt. Vocational Girls School Ararat road, Padanapalam, Kannur. 
They don't have a Contact delivery system and mainly is for Dine-in.
But no worries as they have a tie-up with some delivery agencies, through which you can still order what You wish. 
If it happens you pass by this restaurant, grab the mouth-watering dishes once!
Chinese Restaurants in Kannur
Image Credits: Yipee Chinese
A Chinese Treat!
Today we all look after other countries, their lifestyle, tradition, fashion, food and All.
While China is most loved by our Native people as influenced by dramas, series, and all.
Sometimes we all wish and yearn to taste the food they eat, the way they eat also keeps us curious about their food. 
Some even order Chinese snacks online as they have a craze for it. 
Look how our little native has expanded!
We have An all-rounder Chinese restaurant Near us, bringing you the best of Chinese dishes you may not have seen. 
We are adding the menu for your information. They are mainly specified in Momos, Gravy, Starters, sizzlers, Noodles, desserts, Chopsuey and much more.
The most loved among them are Hot & Sour Soup, Sichuan Momos, and Chicken Steamed Momos. 
They don't have a separate outlet, but it is situated in Capitol Mall Kannur.
If you are a Chinese food fan, this place is especially for you!
Just go for it!
Image Credits: Pepper Pot
Another Suggestable Chinese Restaurant is Situated in Thavakkara, Kannur.
The dishes they provide are much more while comparing. 
The popular are Dragon Chicken, American Choupsey, shredded Chicken, Chicken Biriyani puttu, Butter Garlic Chicken, Cream of Chicken, Tiger Grilled Chicken, Dragon puttu, Cream of Tomato soup, Yang Chicken Soup, and Live Honey Cakes. 
While the review, you would have to know what kind of cuisine they serve. They are Indo- Chinese dishes mainly, which are comparatively popular among the new generation. 
Of course, it matches the vibes of youth with the variable in taste rather than the food we consume normally. 
The working time of this restaurant is from 12:30 pm to 10:30 pm.
They have dine-in, Drive-through services but no direct Contact delivery.
You can approach various delivery agents who provide The facility. 
They have counter service and according to the period, late-night foods are available.
They mainly serve food For lunch and dinner, and in between, Power boosters, Tea or coffee, or other Drinks are available.
The Chocolate Ecstacy, rare in these kinds of restaurants other than a specific cafe, is available here!
Pepper pot restaurant is a suggestable restaurant to hang out with your friends and family with a cosy ambiance and a good mood!
Image Credits: BB Bon Bons
Best of Everything! 
A decent Cafe with good Ambience.
A budget Friendly Cafe is situated on the first floor of KVM Plaza, Thavakkara, Kannur. 
The menu has categories that can be separated into Fries, Nuggets, Burgers, Wraps, Strips, and Party Boxes. 
The zinger, Zinger Cheese Burgers, and acombination of Crispy chicken wraps are Lip-smacking! 
Not an end to this, but also have varieties of Waffles which are cookies and Cream waffles, Nutella Waffles, and We Can't compete with the tasty sundaes of cotton candy, Nutella, cooky cream, Ferrero Rocher, lotus Biscoff. 
Of the same Flavours, Pancakes are also available.
The refreshing Mojitos of Green apple, Blue Heaven, Mint, Kiwi, Watermelon and bubble gum can lift your mood on summer afternoons! 
They provide board games to avoid boredom as the customers wait for their orders.
This cafe is best for spending quality time with your partner in a romantic and cozy atmosphere and will be best for chilling with your friends on the weekends.
A new Hangout space in the Heart of Kannur!
We have provided some of the best and most loved Restaurants in Kannur with different categories located in the Heart of Kannur! 
As Kannur is the place of Food and Food Lovers, who value and treat food with love, we hope you can find the best out of this and have the best time with your loved ones!
You may come across the same cuisines in many restaurants; don't get irritated!
Kannur is famous for the best Biriyani and is a competition between the restaurants to serve the best among them! 
Also, Kannur had the best picnic spots Payyambalam Beach, Muzhappilangad Beach, Parassinikkadavu Snake Park, Baby Beach etc…
The restaurants mentioned above and cafes are rated and loved according to their specialties and styles!
We hope you will be satisfied with our Selection and feel good if you comment on Your Experience!
Thank you for your valuable time!