Hai foodies,
Are you looking for the best restaurants in Calicut?
And if you're looking for authentic malabar cuisine, It's not easy for a foodie like me to give another foodie like you an idea about the top restaurants in Kozhikode.
There are plenty of restaurants in Calicut where you could explore Calicut's famous food.
Kozhikode restaurants are Kerala's best food paradise, and it's famous for its delicious cuisine.
The listing will be incomplete.
Yes, it's…
When I visit Calicut, I always search for the renowned restaurants in Calicut.
These are a few of the best restaurants in Calicut.
Best restaurants in Calicut
Explore yummy special foods from any of these restaurants.
Rahmath Hotel Calicut
Rahmath hotel Calicut is among the very best restaurants in Kozhikode.
Rahmath hotel Kozhikode is famous for its delicious Beef Biriyani, Mutton Biriyani, and Chicken Biriyani.
When I went there for the very first time, it had been approximately between 10:00 am or 10:30 am, if I'm not wrong. Plus, it was so crowded.
Now you would have a little picture of this well-known Rahmath hotel Kozhikode. Anyhow, we have to wait to taste their delicious biriyani. We waited…
Lastly, the waiter called us and managed to get a seat after some time.
I told my buddy to purchase. He requested me to give order, and it was my turn to order food.
I really don't need a menu card to order food from Rahmath as I am well aware of why I'm here…
Feeling sad now while believing I could not taste the special Mutton Biriyani of Calicut Rahmath hotel.
After i ordered chicken and beef biriyani, then I thought of ordering something else, checking the Rahmath hotel Calicut menu, and ordered the Kaada fry (Quil fry).
As everyone said, the biriyani is flavorful and yummy, and it's very different from the ordinary biriyani we make in the home or eating from other districts' restaurants.
This is why Calicut is unique, and it's known as the Paradise of delicious foods since it has its traditional taste in Calicut style food cuisine.
The food quality and amount are all amazing, the restaurant is clean and neat, they provide good service and staff are very polite and friendly. The one who took our order inquired where we were from and did you like the biriyani etc.
The foods are encouraging, and the tastes are mouth-watering. Eagerly waiting to explore Hotel Rahmath Calicut and its food once again.
They have two restaurants in kozhikode, one is near Aravind Ghosh Rd, near Mathrubhumi Office, Mananchira, Kozhikode. Another one is near calicut stadium.
Paragon Restaurant Calicut
Are you looking for distinct and varieties of cuisines?
Pick Paragon restaurant Calicut, there they're supplying a variety of cuisines in various tastes.
After visiting tushara giri waterfalls, I reached Calicut, and it was 7 pm. So walked towards the Paragon restaurant Kozhikode to taste their famous biriyani.
As it was nighttime and as I expected, it was crowded. People were waiting for their turn.
It reminded me of our village marriage function. Individuals will be waiting behind the people who are eating, and once they're completed, they'll hurry to get their chairs.
Folks were waiting like that, and I personally don't like waiting like as they do. So, we waited aside. After half an hour we got the seat.
If you plan to go with family or friends, it's better to book a table to avoid waiting outside.
As usual, nothing special nor new. Ordered only chicken biriyani. They brought Chicken biriyani with pickle, chammanthi, and salad which was damn yummy and delicious.
I doubt why they are using lagoons for their biriyani rather than Chicken.
Do you know why?
If so, comment below…
Paragon restaurant Calicut is an excellent alternative for breakfast, lunch, and dinner. They supply a delicious and refreshing authentic menu, which is much more than good enough to make a foodie happier.
Paragon Calicut is still the best restaurants in Calicut for its delicious dishes such as Biryani, Appam, Fish Mulakittath, and many more…
Hotel Paragon Calicut is famed for its authentic and delicious Malabar, Chinese, Seafood, and other foreign cuisines.
As they cook tasty non-veg foods, they also serve vegetarian dishes.
The must-try dishes include Chicken Biriyani, Mutton Biryani, Beef Biriyani, Mutton Stew, Kerala Appam, Fish curry, etc.
Meals used to be a combo of two fish curries, 3 vegetable curries, 2 Thorans, boiled rice, rasam, curd, upperi, pappadam, pickle, chutney, chammanthi, and payasam.
Paragon hotel Kozhikode also has distinct branches. They Supply amenities such as Takeout, Delivery, Reservations, Parking, and Seating.
Zains Restaurant Calicut
Zain's restaurant Calicut is famed for its yummy snacks and tasty Biriyanis such as Mutton Biriyani and Chicken Biriyani.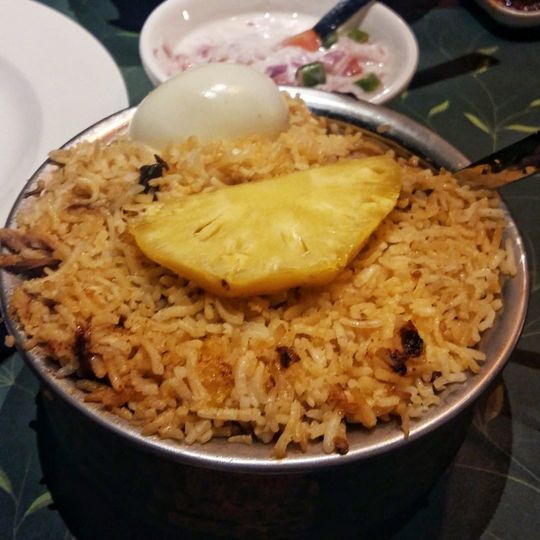 The famous Zain's restaurant owner is a woman named Mrs. Zainabi Noor.
Zains restaurant includes various and tasty foods which are famous between Calicut people and the foodies like us…
I got a chance to meet her when I went there for the first time to try out some yummy foods…
Regrettably, I could not taste their tasty biriyani and other delicious items from one of the best restaurants in Calicut as it was Ramadan time.
They'd prepared some yummy snacks for iftar, so I bought some snacks and tasted them while returning home.
It was yummy and delicious. The taste of ingredients and snacks is really unique.
There are lots of Calicut special snacks at zain restaurant Kozhikode that are outstanding in flavor.
Sagar Hotel Calicut
Sagar hotel Calicut is famous for its non-veg foods.
If you're alone or with family, this is one of the renowned restaurants in Kozhikode.
When I went to the Sagar hotel Kozhikode for the first time, I ordered Beef Biriyani, and it was yummy.
The Beef in Biriyani was hard, even though the tastes and ingredients are flavorful.
The Sagar hotel Calicut is near the KSRTC Bus stand. Consequently, if you're traveling, you can opt for this restaurant to try delicious food.
Kezamiya Restaurant Calicut
Kezamiya restaurant Calicut near Hilite mall Calicut is a famous restro for everyone.
Whenever I go to the Hilite mall Kozhikode, I have lunch or dinner from Kezamiya restaurant while returning to home.
I visited Kezamiya restro twice and tried Calicut's famous Piri Piri Alfaham, Biryani and Fried rice.
It was delicious, and they serve not just Calicut's famous food but also the most outstanding South Indian dishes, Arabic dishes, and North Indian dishes.
I truly liked the atmosphere of this restaurant. It's an elegant and clean restaurant with enough car parking facility.
There are lots of various foods like butter naan and fried rice, chicken kondattam, Piri Piri, al faham, beef kondattam, biriyani, and many more delicious dishes.
The meals from Kezamiya restaurant may satisfy a foodie like you. Explore some tasty, delicious dishes once you visit there.
Bombay Hotel Calicut
Bombay hotel Calicut is one of the best restaurants in Calicut, serving delicious Kozhikode famous food.
The restaurant is famous for its biryani. They serve yummy and spicy biryani such as Mutton biriyani and Mutton curry. The side dishes such as Pickle and Salad are also an excellent combination with their biryani.
Even if it's Mutton biryani or Chicken biryani, or Fish biryani, the flavor and flavor of that biryani are different. I feel like it's a special ingredient of Bombay hotel.
As soon as I visited Bombay hotel Kozhikode, I ordered their chicken biriyani, ghee rice with lovely mutton stew. The flavor of the food there's always great.
Bombay hotel Kozhikode is famed for its snacks like a Mutton cutlet, Pazhapori, Elanchi, Pazham nirachath, Chemmeen cake, etc. These few of the dishes are my favorite.
Another attraction of the menu is the Kadukka nirachathu (Kallummakkaya), Irachi Pathiri, Chatti Pathiri. Bombay hotel Kozhikode's menu and every dish they serve are enticing and mouthwatering.
Only the gravy is sufficient to taste more pathiri. They serve those dishes for breakfast. Dishes like pathpathiri and beef curry with hot black or milk tea are the most favorite breakfast items.
The service of the restaurant is excellent, and the team is very polite and friendly.
Topform Restaurant Calicut
Topform Kozhikode is among the very refined and best restaurants in Calicut with its yummy Kerala Porotta, Beef roast, Beef curry, Chicken curry Chicken biryani.
They're also renowned for their yummy Malabar biryani, like other popular restaurants of Calicut.
I tasted their Ghee rice with Chicken curry that was yummy, and my buddy tried Porotta with tempting beef curry.
They serve both Asian and Indian cuisines. Not just biryani, but additionally Topform Calicut menu includes tasty dishes with 2 vegetables curry, 3 non-vegetarian curries, thoran, curd, pappadam, rasam, payasam, and boiled rice.
The staff and services of those restaurants are friendly and considerate, and the dining room area and tables are appropriately organized for simple accessibility to a lot of customers.
Taste your delicious dishes from the best restaurants in Calicut.
Sad or happy, food is my only solution to make the day more better.
How about you?